Inside Metro Wine and Spirits, hundreds of alcoholic drinks and mixers pack the 1,700-square-foot store from floor to ceiling. 
Customers walk in and out of the business at 1726 Columbia Road NW to shop an array of brands, from a $3,000 bottle of Kentucky Owl whiskey to a $6 bottle of Casamigos tequila.
"We try to keep up with what our customers want and the changing of the neighborhood," said Greg Parikh, the liquor store owner. "The neighborhood keeps changing for good and you want to keep changing with it."
Parikh said since he began running the store, he has seen many businesses open in the neighborhood but many of them closed down.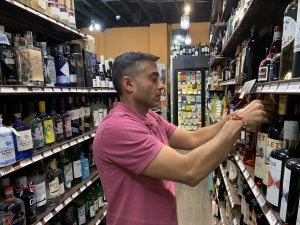 About six businesses in the last year reported to social media to announce shuttering storefronts in Adams Morgan, including 18-year-old Amsterdam Falafelshop, a late-night falafel and shawarma restaurant. 
"The neighborhood, from when I took over to now, over the years has changed a lot," Parikh said. "We had a CVS store next to us and a luggage store and then they closed down and demoed the whole building, and now it's a high-rise building." 
Long-time Adams Morgan resident Josh Gibson said that's just the nature of business in the neighborhood. 
Gibson said many of the buildings in the neighborhood were once other businesses— including the Ontario Theatre, which became condos and the Banfield Pet Hospital; The Knickerbocker Theatre, which is being considered for redevelopment; and The National Arena roller rink, now a Harris Teeter. 
Those were only a few examples of the lives commercial buildings move through in Adams Morgan but they were significant, Gibson said.
"There's just a ton of churn and a ton of lives that businesses go through," Gibson said. "You can't get too attached to any neighborhood business because you know inevitably it's going to go, whether it's for economic reasons or family health reasons, and a new place will come in."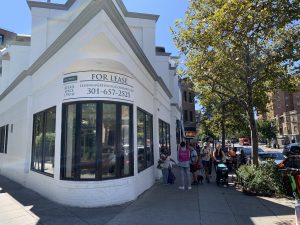 Gibson, co-author of "Adams Morgan (Then and Now)," watched many businesses in the neighborhood come and go since moving to the area in 1998, including his favorite restaurant Cashion's Eat Place, an upscale American eatery. 
"It's hard as someone who has lived in the neighborhood for so long, and we've fallen in love with places that closed," Gibson said. "You just have to remind yourself that all of the places you love were new once but will definitely go at some point."
Gibson wonders why businesses in the area close down, but he said, "The assumption is that it closes because it wasn't making money."
Parikh credits his returning customers for his store's success. He also works to keep up with Adams Morgan's changing economic environment by fulfilling customers' wants— like creating a delivery system to use during the COVID-19 pandemic or renovating the inside of the store for a more attractive look.
After the former owner filed for bankruptcy, Parikh bought the business in 2002 for $650,000, according to the D.C. Recorder of Deeds. Parikh said the "store has been through so much" since he took over, but the business still does well overall.
Gibson said the area is mainly known for its nightlife, so daytime businesses tend to need help. However, he said recent years show an uptick in daytime foot traffic, encouraging more businesses to open during the day.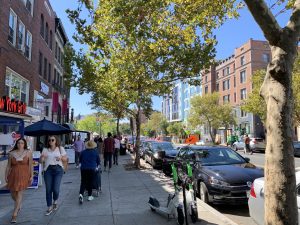 About 225 businesses operate in Adams Morgan, according to Kristen Barden, executive director of Adams Morgan Partnership Business Improvement District, a 501 (c) (6) aimed at enhancing the neighborhood.
However, the Adams Morgan Partnership BID website lists at least three closed-down stores, so the number of current businesses in the area needs to be clarified.  
At least three buildings on Columbia Road NW in Adams Morgan show for sale or for lease signs, with some residents fearing more stores will follow suit.