By Daniela Lobo and Katherine Hapgood
Demonstrators from across the United States traveled to Washington D.C. to experience the historical arraignment of former President Donald Trump.
Trump pleaded not guilty to the four felony charges, including conspiracy and obstruction, in connection with his alleged involvement in attempting to overturn the 2020 election results. Trump is the first former president ever to be criminally prosecuted. He faced two indictments earlier this year, making this his third.
Outside the D.C. Federal Courthouse Thursday, the energy was palpable as costume-clad protesters demonstrated conflicting views with impromptu performances and colorful signage.
Making your way through the crowd, notable characters were easy to spot.
Domenic Santana: Spending Retirement Protesting Across the Country 
Leaning against a tree smoking a cigarette, Domenic Santana – dressed head-to-toe in a black and white striped jumpsuit complete with plastic handcuffs – is spending his retirement following Trump's recent indictments across the United States.
"Once I hear that he got indicted, I'm there. And I'm here. And I'm back home in Miami tomorrow," he said.
Santana, who identifies as a Republican, says he did not vote for Trump in the 2020 election. He thinks the former president should be held accountable for his actions.
"He wants to steal the election after I voted for Joe Biden? He wants to say that he's won? Come on! The game is over," Santana said. "You cannot allow a B.S. person to continue manipulating people to believe in the lies. Enough is enough. We need to wake up."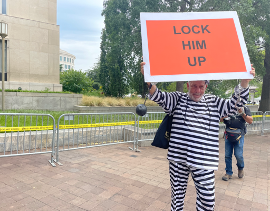 Santana says he'll continue following the former president wherever he goes, as it is his civic duty.
Steve Corson: Defending and Speaking Up For January 6th Protesters
"I've been on this street corner, really right over there, right across the street, for four straight months. I come out and stand out there almost every day," said Steve Corson, a proud Trump supporter and participant in the Jan. 6th U.S. Capitol attack.
Originally from Arizona, Corson says he protests in D.C., outside the federal courthouse, almost daily for America's freedom, liberty and justice.
"I stand for the [January] 6th prisoners; I've been doing that for months," he said. "Now, Trump is indicted."
Tim Smith: Live-Painting American History
Tim Smith, a man mostly hidden behind an over 4-foot-long and 3-foot-tall panel, paints the scene at the courthouse in front of him.
Smith has been live-painting historical events for several years, particularly after the Jan. 6 attack. The entire piece is 22 feet long, with five panels in total. The current panel he's working on is the last in the series.
"I was outside the House; this was during McCarthy's vote," Smith said, gesturing to the painting. "It was the last day he was getting voted as House speaker. I was down there."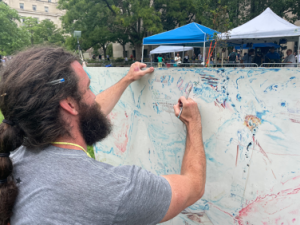 Painted near the bottom is former president Trump, depicted as a fire-breathing Kraken.
"This is today's session: You have the courthouse, you have the baby Trump and you have one of the police officers on horseback there," he said, explaining the painting. "You have Trump's head down here as the head of the Kraken, and his tentacles are coming up. One's wrapping around this ship that could represent America and just sort of crushing it and bringing it under."
Smith says he hopes to engage people who are not very politically active through his art, showing them what's happening and conveying that there are witnesses to history.
He doesn't have plans to display the work anywhere in particular. For now, Smith says, he loves the atmosphere and challenge of it.
"I'm just sort of focused on showing up and staying safe for the events," he said.