The Hallmark Channel's Enchant, a whimsical winter wonderland event, brings Christmas cheer to the Navy Yard this holiday season.
Nationals Park, located at 1500 S. Capitol Street SE, is hosting Enchant, a delightful Christmas maze running until early January.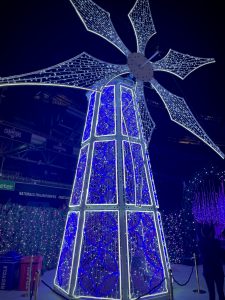 The Hallmark Channel-sponsored event features over 4 million lights and a luminous white 100-foot Christmas tree that can be seen from anywhere inside the stadium.
Enchant includes a number of attractions such as animated light sculptures, a maze, and a Christmas village. Other attractions are live entertainment, Christmas-themed food and drinks, a Christmas market, interactive games, and appearances from Santa and Mrs. Claus.
For the little ones, Enchant features a Little Elves Play Place, where children can listen to stories read by Mrs. Claus and play reindeer games.
One guest, Kayla Martin, told The Wash that she came to Enchant because she loves Christmas.
"Last year, I didn't get into the Christmas spirit, so I wanted to change that, and this was the perfect opportunity," said Martin. "I particularly enjoy the ice skating and the maze. The lights were absolutely beautiful, and it was so nice to get into the spirit tonight."
Inside the maze, guests will find the 100-foot Christmas tree and will have the opportunity to walk through light tunnels and see various displays, like a giant windmill and floating whales. The maze also features a dance floor, reminiscent of a Christmas discotheque, and giant mushroom structures with hanging light vines, creating a Christmas forest.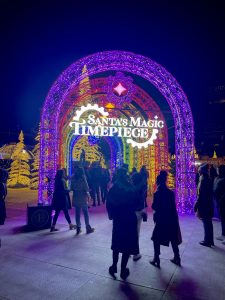 This year, the maze's theme is Santa's Magic Timepiece. As guests enter the maze, they will be able to help Santa on his quest to retrieve all the pieces of his timepiece. The timepiece is made of stars scattered throughout the maze and guests can help save Christmas by going on this scavenger hunt.
Besides Enchant's many Instagram-able locations, guests will find several cozy coves to sit and purchase a drink of their choice – a cocktail or a hot chocolate. There were sweet treats also available at one of the wooden lodges scattered throughout the maze.
At one of the maze's lodges, The Wash, ran into Amanda Gant, who was enjoying the Christmas spirit with her fiancé.
"I love it here. I saw it advertised on Instagram a few days ago, and I thought it would be a great date idea. So here we are and with all the lights and everything, it turned out super magical," said Gant.
Enchant also offered a number of shops in its market for guests to remember their experience with a holiday trinket or take home one of the light-up Christmas lightbulb cocktails from the Tipsy Tree Lounge.
The Wash caught a father of two, Robert Gutman, checking out the shops in the Christmas village.
"I love coming here with my kids. It's a great thing to do with family in the winter, and the Christmas village has the best hot chocolate. We love it," Gutman said.
Tickets range from $23 to $32 with ice skating costing an extra $15 to $18. Special discounts are offered for families of four and military service members. Tickets can be purchased via the website Enchantchristmas.com.