Montgomery County public schools and Montgomery College campuses are closed on Monday after a widespread power outage caused by a plane crash in Gaithersburg, Maryland the night before.
About 161,000 students commuting to 210 public schools in Montgomery County Public Schools (MCPS) were affected. Childcare services provided before and after school hours at public school facilities were also cancelled.
Around 17,000 students had their classes cancelled today at Montgomery College, according to its media relations department.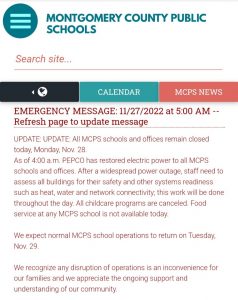 "I had guests for Thanksgiving until this morning and did not have time to check the messages," said a substitute teacher who identified herself as Ms. H, arriving at Walt Whitman High School in Bethesda around 7:00 a.m. Monday.
Ms. H said she was shocked to find the empty parking lot, but it was good for students to close the schools as there could be issues in communication systems and other school facilities.
Several students who came to school without knowing the closure were waiting for their guardians to pick them up. At Walt Whitman, around a dozen students came to school between 7 a.m. to 7:45 a.m. One junior shrugged his shoulders and said he didn't know about the school closure before getting back on his bicycle.
Approximately 85,000 residents across the county experienced an outage after a private plane crashed into Pepco transmission lines in Gaithersburg around 5:30 p.m. Approximately 125 traffic signal lights were without power as of 11:15 p.m. according to Montgomery County Department of Transportation.
Ben Armstrong at Pepco media relations said the electric lines impacted by the incident remain deenergized, but the company was able to restore electric services to all affected customers by 11:58 p.m. Sunday due to redundancy built into the local power grid.
MCPS's decision to close the school system after the power was restored drew some criticism. People on Twitter questioned that decision.
Esther L. Wells (@EstherLWells) tweeted, "Closing all childcare programs at schools, now that power has been restored, is odd. Childcare is there for the convenience of working parents."
ChessboardKings (@ChessboardK) tweeted, "Parents have commitments, kids should be learning. Closing Schools shouldn't be done on a whim, a chance or possibility."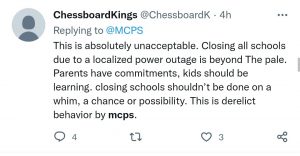 Christopher Cram, director of the Department of Communications at MCPS, said the decision to close the school system the next day was made around 11:25 p.m. Sunday. Cram said 44 schools and six offices, including two bus depots and the food and nutrition services divisions, were out of power at that time.
"You have to ensure safety systems, communication systems, keep water and power up and running in a safe and manageable way. But there was no way that we could do that in time for any morning operations," Cram said.
With regard to communication issues, Cram said, "About 20% of MCPS families do not have or provide updated communication information," partly because many families move from different parts of the country or have language barriers.
"Families need to understand that, in order for us to reach them, they need to ensure that we have the most up to date information with emergency messages like that. We send it to every contact provided," he said.
MCPS is expecting to resume normal school operations tomorrow.