Jackson-Reed High School was placed under temporary lockdown Friday afternoon after an officer at the school reported gunfire half a block away. Students have since been dismissed, and officers on the scene say the school area is now safe.
The Tenleytown high school went under lockdown just after 2:45 as it prepared to let out for the day.
Senior Henry Marks, 17, said he could tell when the lockdown announcement came over the intercom that it was not just a drill.
"All they said was there was a threat outside the building," Marks said. "They never provided specifics. They were very clear students were not in danger."
During the lockdown, parents gathered outside the block, waiting to learn when to pick up their children from inside. 
"I don't feel good," one parent said about the lack of information they had then. 
The lockdown was lifted less than an hour later and students were dismissed from the back of the school.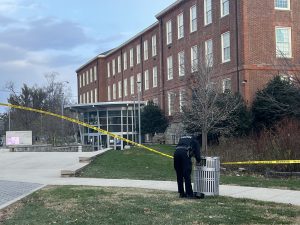 Commander of the second district, Duncan Bedlion, said police arrived on the scene quickly after receiving the initial report and multiple 911 calls. After firing a gun at 40th and Chesapeake St. intersection, an adult male in dark clothing got into a black Infinity sedan with other individuals and fled the scene, Bedlion said. 
"There was some property damage, but we have no reports of any victims being harmed by gunfire," Bedlion said. 
"There are no victims outside of Jackson Reed High School that have been struck, and there are no victims in Jackson Reed High School," he added.  
Less than a mile from Jackson-Reed, American University sent an alert at 3:03 telling its students to avoid the area and residents of the nearby Frequency Apartments to shelter in place. This was followed shortly by another alert at 3:21, saying the scene had been stabilized. In the time between, the university suspended its shuttle service to the Tenley Town metro.
American University said in a memo after the incident they are increasing university police presence through the weekend in the area around the metro station, Frequency Apartments and the Washington School of Law "out of an abundance of caution."