A new pop-up park in Dupont Circle is the latest effort of D.C.'s Business Improvement Districts to add new car-free areas to the city. The area is a converted U-Turn south of the busy Dupont traffic circle, which has recently been blocked off to cars. The area has been converted from a narrow U-turn to a high-traffic pedestrian walkway south of the traffic circle.
The converted road space, or slip lane, was already a popular passage for pedestrians walking through and around the busy circle. Now, pink barriers are blocking off access to cars, which makes it safe for pedestrians to continue using it rather than waiting for crossing signals or coming too close to speeding cars.
"We've observed pedestrians crossing through it, said Karyn Miller, project lead at Golden Triangle BID. "So we felt like there was value to creating safety improvement in this specific location." Golden Triangle has a permit to keep the area blocked off for a year. The BID is treating this park as a pilot to see if it is well-received.
This park is the product of a grant from the Streets for People program, an initiative of the D.C. Office of Planning. The Golden Triangle BID collaborated with the D.C. Department of Transportation and the Office of Planning to install the barriers.
"We were able to paint the barriers, paint the surface of the roadway that was closed in and add planters and some seating as well," said Miller.
The Golden Triangle BID is the second largest in the city. It stretches from south of Dupont Circle and 44 square blocks to the White House, and east-west from 16th Street to 21st. Golden Triangle and the rest of the BIDs do economic development and retail attraction in public spaces around D.C.
Andrew Huff, an Associate Director at the Golden Triangle BID said, "A big part of what we do is public art and public space activation."
The BID is already happy with the foot traffic the area has seen even before they made the improvements.
"We took some photos during Pride and there were people just flooded in that turnaround lane," said Miller. "So we'd see it on a day-to-day basis, and then around events, we would see it even more."
Sophia Hamilton, a sales assistant and barista at Un Je Ne Sais Quoi, said she and her coworkers love the new car-free area right outside their store. Un Je Ne Sais Quoi is a French café and bakery on Connecticut Avenue Northwest just south of the circle.
"Having those communal areas very close to the store is incredibly helpful," said Hamilton.
The small café is regularly full and sometimes has a line out the door. There is tight seating inside and a few tables outside which regularly fill up.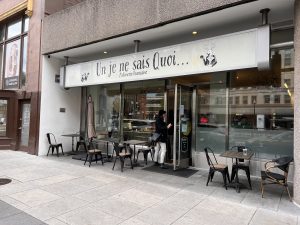 Hamilton said she and her coworkers also use the outdoor space to meet up with other people who work in the area when their breaks line up. "It also helps build a sense of community. When we're on our breaks, we go over there and enjoy our coffee or food."
The BID chose this area for the pop-up park due to the number of small businesses along Connecticut Avenue that could use the space for their customers or staff.
"We hoped that this would serve as a helpful overflow space for those businesses, which we've already seen happen there."
Miller also discussed another hope for the Dupont pop-up and other areas they manage, something called "biophilic design," which is a design concept around increasing the number of green spaces in cities like D.C.
She said, "there's a value in terms of our health and well-being in having green spaces around us and less hardscaping and concrete and glass and asphalt."
Golden Triangle has also seen success with parks of all sizes in other areas. The BID's largest park is Farragut Park in Downtown D.C.
Farragut is frequented by office workers from the surrounding business and commercial area. The park also hosts seasonal events and offers free WIFI, which allows people from the nearby offices to work outside. Farragut is the largest park in the area maintained by Golden Triangle.
"We think about how we can create these moments of respite and these little pockets of where people can gather safely and grab a bite to eat. And with Covid, that's made this type of space more important than ever, having safe outdoor spaces for people."