Has China surpassed the United States in economic and diplomatic power in the Middle East? That was one of the questions that policy analysts grappled with on Friday during the Grand Strategy Summit sponsored by the Nixon Foundation.
At a panel entitled "A Nuclear Middle East: Preventing Proliferation," Former Deputy Assistant Secretary of Defence Elbridge Colby moderated a conversation between former State Department spokesman Morgan Ortagus and Center for Strategic and International Studies Director of the Middle East Program Jon Alterman.
Alterman argued that China has been beating the United States when it comes to strengthening ties in the Middle East in recent years.
"You can talk China, China, China, as much as you want," said Alterman. "Countries on the receiving end are interested in what they can get, and the Chinese explicitly say, 'this is what you can expect from the United States and this is what we'll do.' "
Alterman said that China has been making more enticing deals with Middle Eastern countries, such as Saudi Arabia and Iran, giving these countries "an 80% solution at a 60% price."
The CSIS director asked the audience to think of China's strategy in the Middle East in terms of imperialism, with "imperialism 1.0 being imperialism, and imperialism 2.0 being the 'rules based' international order." China is interested in imperialism 3.0, he said, "which you come in mostly economically, you don't need to have the same military footprint at all, [and] you don't need the same diplomatic footprint."
Colby pushed back, saying we do not need to globalize our competition, but instead the US should station itself at the first link in China's Belt and Road chain, effectively crippling China's ability to project serious military power into the Middle East.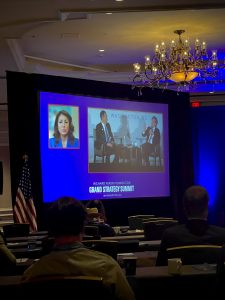 "In Asia, from my point of view, it's almost geometric, it's like Japan's on our side, Australia's on our side, we've got the military perimeter right, and we should allocate resources and political capital necessary to solve the problem," said Colby. "But then the Middle East and Europe remain really important, but that's where that power scarcity is felt."
Ortagus attributed the waning U.S. influence in the Middle East to the way our country views itself on the world stage.
According to Altermen, "we can't imagine any global power that doesn't want to follow our lead, that doesn't want to use our structures, that doesn't want to integrate military/economic power in the same way."
Ortagus said, "there is a big difference on both how China and Russia are viewed globally versus how they view themselves internally… there is the feeling [by their government and its people] that the authoritarian model is on the rise, that America and the West is on the decline."
Alterman responded, saying, "When a Middle Easterner looks at the United States, they think about U.S. performance in Iraq and Afghanistan, and they're not very impressed."
"I think from a Chinese perspective, China looks at the US in Iraq and Afghanistan and says that's exactly the way not to run your foreign policy to pour money after money after money into trying to make somebody something they're not," Alterman said.
He said that American's past strategy in the Middle East has forged this opinion of Washington in the minds of Chinese leadership in Beijing.
"I think in many ways it sort of reinforces this sense that the Pax Americana not only is over –
never really was; the US isn't really essential the way it was, and we're going to engage differently with other countries of the world and the United States can go suck eggs," Alterman said.
In the final minutes of the talk, the Biden Administration's approach to Iran was discussed and the attempted reconciliation of  the Joint Comprehensive Plan of Action (JCPOA), known commonly as the Iran nuclear deal.
"The only plan that they've had was to get back into this deal. The Ayatollah and his henchmen clearly have had no interest in getting back [into this deal], and then they played them for 18 months…so, I really don't see any strategy for what they're going to do for the next two years," said Ortagus.
Ortagus didn't see any room for the US to get back into the JCPOA and said it would be a political disaster. Using the Trump era policy of maximum pressure to regain leverage with the Iranian regime was the only option that the Biden Administration had left, Ortagus said.
However, Alterman said that, because the US has a checkered past with regime changes, the country must build tools, such as diplomacy, military power, sanctions, and gather all possible support to deal with a regime like the one in Iran.
He said, "so much of our analysis of China is based on the last 20 years, what should you be thinking about for the next 20 years?"
Alterman said China fumbled Covid, hard, that their population is starting to decline, and their economic growth is flattening. "Are we making a fundamental mistake in not appreciating that all we're taking about really is where the Middle East will be in 20 years? But where is China going to be in 20 years and what does that mean strategically for us in our own country?" he asked.