Education remains an important issue for voters and campaigners in Adams Morgan, even if their ward only has a single candidate running for the Ward 1 D.C. State Board of Education seat. 
On a chilly, Tuesday morning, voters waited in an unusually long line at the Marie Reed Elementary School in Adams Morgan, while campaigners and volunteers handed out flyers and donuts.  
One campaigner was Ben Williams, the candidate for the ward's board of education seat, and he spoke about what it's like being a teacher and why he believes the education system is at a critical point right now. 
"I think that we need to make sure that we give kids the proper training and opportunities to be able to live self-directed lives," Williams said. "Right now our education system is at a real breaking point with teachers leaving the classroom, and I think we need to make sure that we're supporting teachers and giving students the resources they need to bounce back from the pandemic."  
School safety has been a concern, particularly pedestrian safety, Williams added.  
A lot of people say the D.C. government needs to improve its safe passage program, Williams said. "There's a concern about getting to and from schools safely." 
Mayor Muriel Bowser announced last December that six community-based organizations would receive $4.3 million for fiscal year 2022 to support the D.C.'s Safe Passage program. Among other things, Safe Passage places adults along select routes to ensure students can travel safely to and from school.   
For Dayne Weber, a manager at a nonprofit organization focusing on education and a D.C. voter, working in the education field has emphasized the importance of the issue.  
"I really am hoping that we can ensure the safety of our kids in schools but also make sure that we have a good education system that prepares students for the world and prepares them to be good citizens," she said.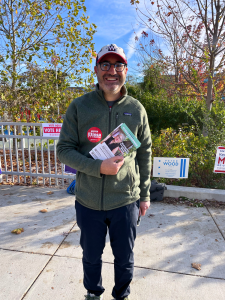 Throughout D.C., "school safety and well-funded schools is a critical issue," according to Jeff Francer, a volunteer for Elissa Silverman's campaign for re-election as at-large councilmember. He supports Silverman because she's endorsed by teachers and supports well-funded public schools.
D.C. public schools are "funded through a combination of district local funding, federal grant funding, and other funding," according to the D.C. Public Schools Budgets website.  
Jon Wilkins, an election volunteer and member of the Marie Reed parent-teacher association, said his background in education for the last six years and involvement with the PTA has highlighted schools and school safety.
"I think that the safety of schools and the importance of schools is really a high emphasis for the leadership and administration as well as for the parents in general," he said.
Daren Thomas, a volunteer for Graham McLaughlin's at-large council seat campaign, also volunteers for an after-school children's program at the Sitar Arts Center in Adams Morgan.  
"We're always interested in the safety of those kids," he said. 
Thomas said a big reason why the organization was founded 20 years ago was because there was more gang violence in the area and Sitar Arts Center wanted "to keep kids safe between three and seven," he said.  
When Kevin Mulshine, a volunteer for Brian Schwalb's campaign for D.C. attorney general, had his kids in school, things were not as up to code as they are now.  
"I was a parent during the time of fire code violations in D.C. schools, and it's been great to see the improvements that have come to the local schools," Mulshine said.  
He added that education was a big issue for him and his kids as they were growing up. 
Adams Morgan resident, Cathy Doan, has a daughter who grew up going to public charter schools and is currently a sophomore in college, so she said she believes in the importance of having a good education. 
"It's the future of our youth," Doan said. "So if we don't have a good educational system, we're doing them a big disfavor as we are the wider community."