Georgetown University students were optimistic Election Day, championing issues of abortion, gun safety, and sustainability.
On this Election Day morning, students were running to class for timed midterm exams or having breakfast sandwiches and coffee on the quad, while others canvased, trying to talk to their fellow students about the issues being voted on today.
Georgetown University student Alexa Panati was excited about voting, as she planned to drop off her ballot after her morning classes.
Panati said that marriage equality, abortion rights and gun safety where some of the most important issues that she was voting for.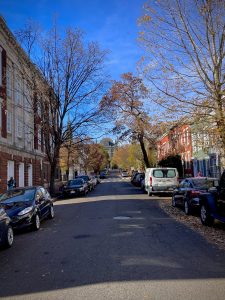 "I think voting is a civic duty that a lot of people have fought very hard to get, especially for me as a woman, so voting is something that I do to honor that because I care a lot about the future of the country," said Panati.
Alexia Netcu, a Romanian immigrant, said voting is tough issue for her because she cannot vote in the United States and hasn't lived in her home country since she was eligible too. But, she said she believes that voting is one of the only ways to make your voice heard.
Netcu said that what she worries about is much the same as many other Americans and her classmates: abortion, sustainably and the economy. However, she said, back home in Romania, corruption, and the balance of power that officials have over the public was on the minds of the Romanian public just as is the case for many Americans.
"It makes me sad to see moral corruption reaching high ranks of government, and that exists in many other countries, too," Netcu said. "But, it was very disheartening to see that in a country that I looked up too in terms of leadership and setting an example for the world, having someone that speaks like that about people and has those opinions."
Netcu said she wasn't discouraged that she couldn't vote this election day, adding that she felt supported by a large portion of the American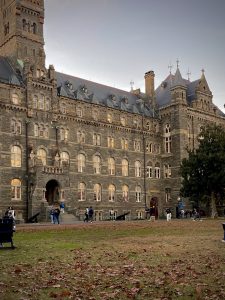 population that she believes share her views.
Megan Chasar agreed with her fellow students on the importance of voting, calling the opportunity a privilege and stating that every vote
matters.
Since the US Supreme Court overturned Roe v. Wade, health care has been especially important to her, Chasar said. In addition, she said she is concerned about violence, adding, "I'm very anti – Second Amendment."
Chasar said she would be voting in the District. However, while many of her family members who were able to vote in person chose to vote by mail, she said she trusted voting in person more because of voter fraud.