By Andrew Fung
PHILADELPHIA — As Pennsylvanians prepared to cast their votes in the state's closely watched gubernatorial and U.S. Senate elections, voters and political leaders across the aisle expressed concern about the state of democracy.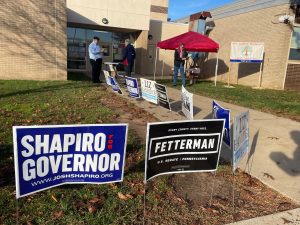 Speaking to thousands of supporters at a rally on Saturday afternoon, high-profile Democrats painted a dark picture of Republicans' attempts to deny election outcomes and implored voters to fight back.
Former president Barack Obama said, "when democracy withers, it's hard to restore," warning listeners that "things won't be OK on their own … they'll be OK if we work for it." President Joe Biden said bluntly that "democracy is on the ballot," a sentiment echoed by other speakers, including Democratic candidates John Fetterman, the lieutenant governor running for a U.S. Senate seat, and Josh Shapiro, the attorney general running to be governor.
For voters planning to support their Republican rivals, Dr. Mehmet Oz for Senate, and Doug Mastriano for governor, worried about election fraud and fears that Democrats would steal elections were top of mind. At a rally for Mastriano in South Philadelphia on Sunday evening —  attended by about 150 supporters —several attendees criticized Democrats' opposition to voting security restrictions.
Connie Winters, a Pennsylvania ward leader, said she was concerned about the country's direction and said that additional measures for election security were needed.
"The Democrats are trying to paint the Republicans as wanting to ruin democracy by having an honest vote," she said, "and we don't agree with that at all."
A New York Times/Siena College poll last month found that 71 percent of voters said democracy was at risk, with a majority saying that the opposing party was "a major threat to democracy." In this cycle, most GOP nominees have joined former President Trump in questioning or denying the results of the 2020 election.
On Saturday afternoon, many attendees of the Democrats' rally listed democracy and voting rights as a top concern for them in the election, too.
"Inflation will come and go … democracy once it's gone, you might not get it back," said Deb Zimmerman, a Pennsylvanian and local elected official.
And John Brown, a Fetterman and Shapiro supporter, said voting rights were the most important issue; the right to vote lays the foundation for solving "issues like climate change, combating gun violence, a higher minimum wage."
For several supporters of democratic candidates, events over the past several years drove them to switch parties. Zimmerman described how until 2017, she was an independent voter but decided after Trump's election to change her registration to the Democratic party to be able to vote in the party's primaries.
Michele Roby, a teacher and school board member who brought her two children to the rally, expressed a similar sentiment about moving towards democratic candidates. "Previous to the prior administration, I just looked at individual candidates and what their position was, but with the turn that the world has taken, you just have to go straight blue at this point."