A new way to travel around D.C. is expected to roll into Southwest D.C. in the next few months. 
On Thursday, Mayor Muriel Bowser announced that the Southwest waterfront will become the first Mobility Innovation District, an area dedicated to equitable access to transportation.
Mayor Bowser, the Office of the Deputy Mayor for Planning and Development and the Southwest Business Innovation District are working to transform how residents get around the city. 
Along with new developments bridging The Wharf and Buzzard's Point near the Jefferson Memorial, a new all-electric bus system will connect the area with the National Mall. 
At her announcement, Mayor Bowser said, "Through the activation of our beautiful waterfront, we have brought more jobs, opportunities, retail, restaurants, and entertainment to Southwest DC. In turn, that means more people coming to and through the community." 
Southwest BID received a $3 million grant from DMPED to fund the new Circuit transit system and support a call for innovation that seeks to invite tech innovators to create new solutions for sustainable and equitable transportation throughout the capital. 
Circuit was the first winner of the calls for innovation and the buses are expected to start running early next year. 
The company runs all-electric shuttles in major cities across the country like San Diego and Palm Beach.
DMPED said the bus route will run northbound on Independence Avenue and southbound on Q Street SW, with service to 15th Street SW and South Capitol Street from east to west. 
Lexie Albe is the managing director of the Southwest BID. She said that Southwest is in a unique position to solve transportation issues as new job and recreational opportunities come to the Capital Waterfront.
To Albe, equitable access to mobility means that all residents can enjoy everything the area has to offer, regardless of status or ability. 
"You have one of the largest concentrations of public housing in the entire city, here in Southwest," she said. "And so there are folks with different types of needs down here and accessibility challenges, both for economic accessibility of jobs, accessing health care, accessing grocery stores, and you know, fresh fruits and vegetables, things like that."
D.C. was ranked the fourth most walkable city in a 2018 study from the George Washington University School of Business, but residents still struggle with slow Metro rail and bus commutes.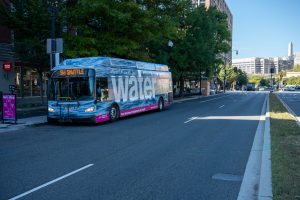 Deputy Mayor John Falcicchio said that one in four adults across the country do not have access to reliable transportation. 
"The solutions we uncover will help create a more equitable city and create models that can be replicated nationally, so every Washingtonian and American can access opportunities and make the most of their fair shot," he said in a press release on Thursday.
The multi-year project also seeks to create a new payment method for D.C. public transit through a universal mobility wallet. 
Albe said that rather than having several apps for buses and trains, the mobility wallet will let D.C. residents access all forms of public transportation through one app or one card. 
The MID hopes to bring more electric vehicles and charging stations to the neighborhood through their calls for innovation and change the way people experience the capital city.