Brand new Johnny Rockets in Logan Circle foreshadows changes in both chain restaurants and the hotel industry.
On October 13, a Johnny Rockets opened on 1501 Rhode Island Avenue, inside the Holiday Inn hotel. This Johnny Rockets is a first for the well-known franchise, containing menu items from a sister FAT Brand restaurant called Hurricane Wings. Along with being the first hybrid Johnny Rockets, this location is ground-breaking in another way. It's the first location to be co-branded with a hotel.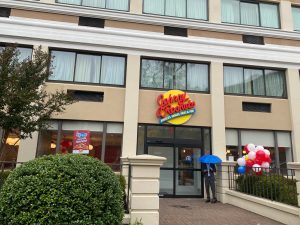 General Manager Satiha Seheaoui has been with the Holiday Inn hotel for 22 years. She said that while some hotels have Johnny Rockets items, this is the first one that offers the full bar and is available for breakfast, lunch and dinner. Seheaoui said this location was chosen because its proximity to everything and its high occupancy rate of 80% to 100%. She estimates that at least 500 people eat at the Holiday Inn for breakfast while visiting D.C. for cherry blossom season, and the Johnny Rockets will be available to guests for breakfast.
"We're excited," Seheaoui said. "And our guests will be pretty excited too."
Along with offering classic Johnny Rockets food and the featured Hurricane Wings items, this location pays tribute to the 'traditional' design created in 1986, with some modern twists. The bright red walls feature vintage-designed posters that work with retro-themed tables and booths to place patrons in an older time. Music of the past blasts from speakers as the smells of burgers, fries and grease fill the air.
Chris Heaton is the director of franchise operations for FAT Brands and was present at the location's grand opening. He said that even though the Johnny Rockets were spread out in different countries and unique locations, such as theme parks and casinos, they were all united by the franchise's consistency in quality. Heaton said the mission statement for Johnny Rockets is "to provide great burgers, fries, shakes and fun" while providing a unique experience for international tourists and domestic visitors alike.
"It feels like home a lot of times," Heaton said about receiving repeat hotel guests. "We make connections with the guests. It's one of the things I always push the servers on; the personal invitation to return… It just makes that connection. I know today our world, it's not something we do enough of."
While the connection and welcoming environment is part of the Johnny Rocket's brand, Heaton said it's also to make guests feel at home in the hotel and want to stay there again on their next visit. The restaurant being on location of the hotel also draws in more foot traffic for the Holiday Inn, increasing their marketing pool.
"The Symbiotic Relationship Between Hotels and On-Site Restaurants," an article in Forbes magazine written in 2019, looked at this dynamic in a New York hotel called Luma and its restaurant partner, Ortzi. In the article, Luma's General Manager Kate Martin explained that providing a full-service, quality restaurant allows guests to "enjoy a standout meal without leaving the building."
For many small businesses and restaurants, tourists are an important part of their patronage. As Seheaoui said, the Holiday Inn hotel can be almost completely full during D.C.'s biggest tourist seasons, the fall and Cherry Blossom season. From the few weeks since opening, there have already been numerous repeat customers due to the Johnny Rockets being available for breakfast to dinner, which means less tourists leaving their hotel location for meals.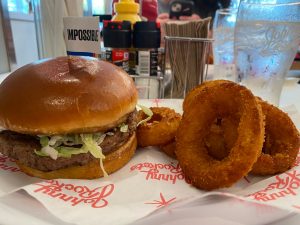 Local resident and Johnny Rockets fan Paul Clouse said he enjoys traveling to new places but likes staying in places that have a touch of familiarity. Clouse said that a hotel like this Holiday Inn would be appealing to him because it's a familiar brand with a popular restaurant he knows and trusts.
"While I am more inclined to search for local cuisines while traveling," he said. "I would definitely stop by the Johnny Rockets if it was in my hotel."
Hotels and restaurants have always held a close relationship, as the U.S. Department of Labor showed in their Careers in Hospitality brochure. The Hospitality Industry, according to the brochure, consists of the restaurant and food services industry and the hotel and lodging industry", uniting them under one metaphorical roof. With more hotels partnering with restaurants to create on-site eating, there is great potential for change within the hospitality industry.