A zombie attack invaded Adams Morgan Sunday afternoon in a flash mob choreographed to Halloween-themed songs.  
The Adams Morgan BID staged the event to promote the pedestrian zone on 18th Street NW and Halloween, which is coming up next week. "The objective of the pedestrian zone is to be a tool for the economic recovery of all the businesses in Adams Morgan," according to the Adams Morgan BID website.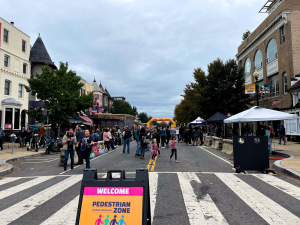 Performers started staggering into the middle of 18th Street in a zombie-like fashion a little after 2 p.m. They all wore matching white T-shirts and had zombie makeup on.  
Kristen Barden, executive director of the Adams Morgan BID, was in charge of the flash mob, which appeared right before a fashion show.  
"We wanted to kick off the fashion show with something that was fun," Barden said.  
The performers stayed in character as they danced to "Heads Will Roll," "Look What You Made Me Do" and, of course, the classic Halloween anthem "Thriller." 
"It was fun," Shine Chang, freshman on the American University cheer team, said. "It was a little cramped, but we still made it work."  
Chang said that her team practiced the dance a couple times during their designated practice time, "but it was mostly by ourselves, or working with other people on our team to try to get it to the best it could be."  
She added that a large part of what made the experience fun was because of their outlook on it.  
"It was fun just cause we would make it fun instead of thinking about it in a bad way," Chang said. "So that definitely made it better than 'Oh god we have to act like zombies.' We made it a fun thing. We could've made it worse. But it was a really fun experience."
Chang's teammate, Miranda Lynch, said she was happy with the performance.  
"I feel pretty good," Lynch, a junior, said after the flash mob ended.  
However, Lynch added that the performers were originally given a different story about what the flash mob would be for.  
"We were told that it was going to be about a proposal," Lynch explained. "I'm very thankful that it was not the case, because I think I would've felt very awkward watching a proposal, especially after a zombie themed flash mob. But we were not told why it was zombie themed nor that the event in general would have a Halloween theme to it." 
Despite the absence of a proposal, the nearly three-minute dance was met with applause and intrigue from bystanders. 
Today was the last day for the Adams Morgan pedestrian zone, because they were only given permission from the D.C. government to host this event on three different Sundays. The BID also received $525,000 from the D.C. Office of Planning's "Streets for the People" grant program.  
According to the Adams Morgan BID website, "The majority of the funding will support the purchase and installation of permanent infrastructure." 
Although the pedestrian zone won't be back for a while, the fun events will go until late tonight.
"There's lots of programming, all afternoon until 10 p.m," Barden said. "So, everyone should come out and check it out."