Dupont Circle's Ozio Lounge at 18th and M NW is getting the city's second sportsbook located outside of a stadium or sports venue.
The first was Grand Central in Adam's Morgan, which one year into its operation, is satisfied with the new venture.
Grand Central is an 18th Street staple which offers food, drinks and multiple dance floors to a lively regular weekend crowd.
It now has a new logo and website design to advertise sports betting front and center, but maintains that they aren't nervous about losing their regular crowd.
When asked how Grand Central changed their marketing strategy since beginning to offer sports betting, Manager Evan Crawford told The Wash, "The party crowd and the gambling crowd are two different things." He added that they advertised they would start offering gambling to draw a new type of crowd "Because [sports betting] is a new attraction, especially in D.C."
Crawford and his staff are not worried that the growing sports betting crowd will push out the regulars or change Grand Central's appeal for people that don't want to bet.
"We've got the people that want to come out and watch the games," he said. "We've got the people that want to bet, and we've got people that just want to come out to drink."
When Grand Central first started offering sports betting a year ago, Crawford said bettors used to spend barely $1,000 a night. Now, however, the combination of community marketing, a steady regular crowd, and ease of use for the betting equipment brings in at least $10k-$20k a night.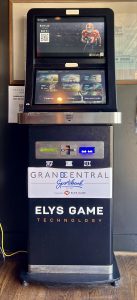 Crawford discussed additional benefits of his bar having more money from the huge success of the sports betting.
He said, "It's life changing for the people that work here. It's life changing for the city, it's bringing more and more income, in taxes for the schools and roads in those connected communities."
And the draw of the sports book continues to grow. Crawford added, "We started off with two kiosks, and now we upgraded to four kiosks." Patrons can either bet in person at one of the kiosks or scan QR codes placed around the bar to their phones to bet live during games.
Crawford said that the NFL season brings in regulars every Sunday to watch, bet, or just drink, though there's an existing crowd of regular customers that contribute to the bar's main income. Crawford is also expecting large crowds drawn by the MLB postseason which began this week.
The sports betting has drawn enough of a crowd that Crawford said Grand Central is opening a second location on H Street in the Northeast Corridor sometime next year.
Grand Central currently hosts the only independently operated sports betting in the United States, though more are on the way for the D.C. area. Ozio Lounge and other future locations like Cloakroom in Mount Vernon Triangle will also be independently operated.
D.C. originally legalized sports betting in 2018, but both Grand Central's existing stations and Ozio Lounge's soon-to-open system are the first locations to host sports betting outside of the stadiums in the area since legalization.
Like Grand Central, Ozio Lounge will carry a Class B gambling license. This particular license allows any type of business such as hotels, bars, or restaurants to offer sports wagering on site. The license also specifies that there is no restriction on the type of business the Class B license holder can operate as, though it cannot be in business for the sole purpose of offering sports gambling. For example, a bar or restaurant can obtain a license for sports betting while still maintaining its operations as a bar.
D.C.'s stadiums offer sports betting with a Class A license, which operates differently. The stadiums are not operated independently. The stadiums that offer betting in D.C. include Capital One Arena, Audi Field, Nationals Park, and St. Elizabeth's East Entertainment and Sports Arena.
According to D.C.'s Office of Lottery and Gaming, the types of wagers allowed in Class B operations include "single-game bets, teaser bets, parlays, over-under, moneyline pools, exchange wagering, in-game wagering, in-play bets, proposition bets and straight bets on sporting events." The website's FAQ section also provides a list of sports allowed and other limitations and information for businesses considering a license.
The Office of Lottery and Gaming is the D.C. government's regulatory body over privately-operated sports wagering in D.C. OLG operates under the D.C. Lottery. A spokesperson for the Office of Lottery and Gaming did not respond in time to requests for comment.**
According to Ozio Lounge staff, the Covid-19 pandemic flattened nightlife attendance in D.C., and nightclubs like Ozio are still feeling the effects and trying to fight their way back.
Management declined an interview request about details of its new betting station approval.
Meanwhile, the post-pandemic resurgence of the nightlife scene is instead happening in more suburban areas like Arlington rather than in Washington. Bars like Ozio Lounge are hoping the addition of sports betting will draw new crowds and re-inject life into Washington's diminished club scene.