Visitors to Tenleytown's high school can't miss the institution's new name as they enter through the glass front doors. A temporary vinyl banner hangs by string displaying "Jackson-Reed" in green capital letters. 
Inside, they are likely to spot teachers and students sporting "Jackson-Reed" T-shirts and lanyards in the halls. 
But one also should not be surprised to catch the name "Woodrow Wilson" still hanging about in a few areas around campus. 
A time and community in transition
When the D.C. Council approved the new eponym for the school in March, what was formerly Woodrow Wilson high school faced a quick turnaround period, said Marc Minsker, assistant principal. 
"Immediately, we had to put in work orders for some of the signage to be replaced," Minsker said. 
Minsker, a former English teacher who greets every student he passes by name, is quick to point out all the updates made so far while walking through the green and tan tiled halls. 
Such progress "is not [in] public school fashion at all," said senior Hadley Carr. 
Large replacements included an embossed 20-foot-long, 4-foot-wide stone sign spanning the corner of Nebraska Ave. and Chesapeake St. that was demolished and recast over the summer. 
Alteration on a seal in the floor of the school's atrium carried into the start of the fall semester. For the first week of classes, Minsker said students and teachers walked around a tent in the school's entrance until contractors completed the renovation.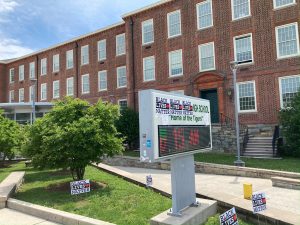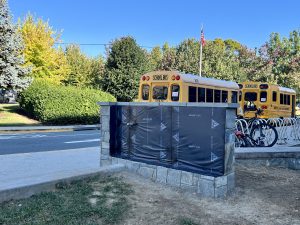 Facilities like the gymnasium and football field have also been updated, and the school has produced merchandise like T-shirts and lanyards with the new name, Carr said. 
Carr, also editor-in-chief at the school's student newspaper, The Beacon, credited the quick pace to the over $1 million allotted to the school by a mayor's office initiative, DC Facilities and Commemorative Expressions. The working group was responsible for recommending changes to facilities whose namesakes are "inconsistent with DC values" and "contributed to our long history of systemic racism," according to its website. 
The school has faced "hiccups" with certain changes, Minsker said, like obtaining new athletic uniforms.  
"Some of our teams don't even have all of their new Jackson-Reed gear yet," said Minsker, who oversees athletics at the school. "The athletic department had ordered everything in time, but it just takes forever."  
Carr is on the school's soccer team and said she and her teammates had to wear their old Wilson jerseys for the season's first games. The boys' team, she said, had to wait even longer for their new gear.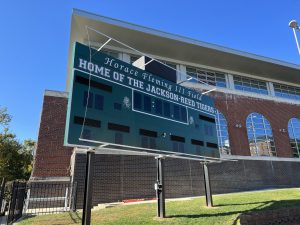 Uniform rebranding for all sports teams cost a sum of $98,000, according to Minsker who confirmed the number with the school's athletic director, Nadira Ricks. She told Minsker the price was more than booster organizations could afford, and that DCPS and DC Infrastructure Academy signed off on invoices. 
Multiple groups have been involved in the process, from the district to parent fundraisers to the city council, though Minsker could not specify budget details. 
Jackson-Reed's Parent Teacher Student Organization is overseeing changes to the website, which is still under the same wilsonhs.org domain. Minsker said they plan to roll out an entirely new website and updated interface by the end of this calendar year. 
"The goal was to really rebuild from scratch, and then unveil it as the Jackson-Reed website," Minsker said. 
In national databases like College Board or ACT, Minsker said the school is often still listed as Woodrow Wilson. 
Carr said she can still spot "little things" with the Wilson name around the school and expects the holdouts to stick around for months or even years.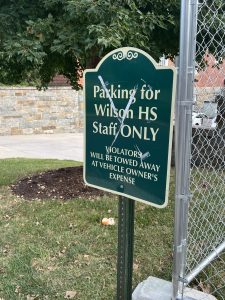 "Just tiny signs in the hallways that you wouldn't even think about but are still there," Carr said. "I still see students wearing their Wilson gear from the years before, so it will take a little while for the community to adjust." 
Students and staff are settling in with the new name and identity, Minsker said, though they are still in a period of transition. 
"It's kind of taking a while for people to check themselves when they're saying 'well, Wilson, I mean, Jackson-Reed,'" Minsker said. 
"People are going through a journey of acceptance about our name change," Carr said. 
"A long time coming"
The call to rename the school began seven years ago with a group of social studies teachers. In what was "a long time coming," Carr said the movement gained momentum in the summer of 2020 following the death of George Floyd and ensuing protests across the country against systemic racism. 
Judith Ingram co-founded the DC History and Justice Collective, which joined the renaming push in 2018 to become one of the leading forces behind the change. Ingram was spurred to action, she said, after learning more about Woodrow Wilson and the former president's Jim Crow-era policies in the district. 
"How is it, knowing what we do now, that we can allow the public high school in the neighborhood to be named after Woodrow Wilson, segregationist-in-chief?" Ingram said she remembers thinking at the time. 
The collective held forums and debates, and circulated a Change.org petition that eventually amassed over 22,000 signatures. 
The name Jackson-Reed is a hyphenated honoring of Edna Jackson and Vincent Reed, the school's first Black teacher and principal. 
Before Jackson-Reed, there was Wilson. And then Wilson. 
Many community members, including parents, were against the change, Ingram said because they wanted to hold onto a certain reputation. 
"Beyond Woodrow Wilson, there is a Wilson brand," said Ingram, a parent of two school alumni. "Students coming from Wilson were well known in colleges. They just had a very good track record of academic and sports and theater excellence." 
Alumni and current students had formed what Carr said was a school community around the name Wilson. 
"Not necessarily Woodrow Wilson, but just Wilson," Carr said. 
In 2021, amid growing consensus to remove the old name, the mayor's office and DCPS proposed August Wilson, a Black playwright famous in the twentieth century, as a replacement. 
Ingram said she and the justice collective protested the suggestion, which they saw as a form of "having our cake and eating it too." 
"We could congratulate ourselves of having gotten rid of the name Woodrow, but we wouldn't have to change anything else. And we really wouldn't have to have that deep investigation of our history," Ingram said.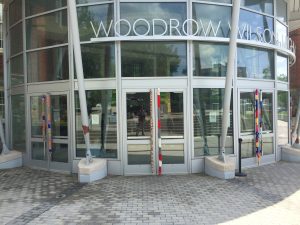 Throughout the decision-making process, Carr said many students had difficulty keeping up with the latest developments. 
"It's certainly an interesting process that I think a lot of students are still confused about," she said. 
The confusion even made its way onto the senior T-shirts for last year's graduating class, a cohort that included Carr's former co-news editor. 
"I remember she called me, she was like, 'Hadley, there's an August Wilson quote on the back of our shirts, and I think they're going to change the name. What am I going to do?' And I was like, that's hilarious and horrible," Carr said. 
During deliberations, the resounding argument against Jackson-Reed, Carr said, was the cost of renovations. 
But despite August Wilson being a more "convenient" option, Minsker said students and staff ultimately did not want to select a figure without ties to D.C. or their school. 
"Why are we recognizing someone who has zero connection to our community when there are really fabulous African American educators that poured their heart and soul into this place?" Minsker said. 
Education on the namesakes' legacies
At the start of the semester, Carr and two other editors from the paper led a panel for students, hosted by the principal Sah Brown, which included colleagues of Vincent Reed, Edna Jackson's niece and others. 
The event was "a great way to start the school year" Minsker said, and it helped put "focus on this new identity and celebrating these names." 
Carr, who has spent the last two years reporting on the process for the newspaper, said she felt initially conflicted. 
"As an athlete, I had spent my first two years of the school cheering for Wilson, playing for Wilson," she said. "But as I began to learn more and more about Edna Jackson and Vincent Reed, I could not be more proud to go to a school with their names." 
She said she hopes the administration offers more education on the two figures to help more of her classmates accept the change. 
"If the school continues to move in the direction of understanding the impact of Edna Jackson and Vincent Reed, then it will be a quicker transition," Carr said.