High school football season is in full swing but not all students will be in the stands this year, as Arlington County Public Schools implements a new policy to limit attendance in favor of security.
The change was announced in an email to parents in early September, saying the admittance policy to all athletic events would be changed to "ensure that all spectators have a safe enjoyable experience."
The email, obtained by The Wash from APS Director of Communications Frank Bellavia, announced that moving forward, the following rules will be enforced at all APS high school athletic events:
Any student 8th grade or younger must be accompanied by parent/guardian/caregiver for admission to any Arlington high school sporting event. The adult accompanying the student or a group of students needs to be in attendance as a point of contact for the duration of the event. This allows APS staff to respond appropriately if issues arise among younger students who are unfamiliar to high school staff and can help ensure a safe environment for students and families who are there to enjoy the game.  

Students are not allowed to bring bags or backpacks.

No outside food or drinks are allowed.

Only high school students from the home team or the visiting team are permitted to attend the game without a parent or guardian. Students who attend an APS high school program may attend if their home school team is playing (ID required). 

Students attending athletic events must bring valid student identification with them to show high school staff upon entering an athletic venue.
APS said that this has been their policy since 2019 and provided The Wash with the contents of an email they sent to parents in 2019 announcing these policies. While much of the content of that email matches the one sent to parents this fall, there was no mention of the policy relating to high school students. 
Some APS parents said they were upset by the recent enforcement of the policy, as it precludes their student's friends from different high schools from attending, unless chaperoned by a parent.
Kevin Hughes, a Washington-Liberty Boosters Club co-president, started a petition to protest this policy, saying that it prohibits students from attending athletic events unless they "meet a narrow set of criteria."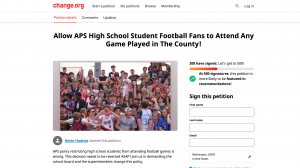 Hughes believed this policy would create deeper divisions in a small community that proclaims to care about inclusivity.
Hughes did not respond to repeated requests for comment.
Some parents, however, are more understanding of the decision to limit attendance at sporting events.
Happy Barranco, the Washington-Liberty Parent Teacher Association president, said she recognizes the policy is "inconvenient," but isn't as upset as Hughes and other parents leading the petition. 
Barranco said that many students in Arlington grow up together through elementary and junior high school and then attend different high schools. While the policy allows for a student from a different school to show up with a parent or guardian, Barranco said that she recognizes that it makes it difficult for the students to be together.
Barranco, whose daughter is a senior at W-L, said that she was given more insight into the policy change at a Sept. 12 PTA meeting with the W-L principal.
Barranco said she was told directly by the principal that the changed admittance policy was made by the high school principals because of security concerns and a lack of resources from the Arlington County Police Department.
"The principals are doing the best that they can with the situation and the lack of resources from ACPD is not their fault. So, while it's inconvenient and isn't preferred that we have that policy in place, we understand they're trying to do what they can," Barranco said.
Barranco shared the information she was given at the PTA meeting in a private Facebook group for APS parents, saying that she hoped to "bring some focus to the effort."
"My overall perspective is that the families who were involved in the petition didn't have all the facts before they started with their petition," Barranco continued. "But I think it was too little too late because they already had the petition and they already had momentum."
In a statement provided by Bellavia, APS said that the policy is driven by a desire to provide a safe and secure environment but did not say that it is related to a lack of resources coming from ACPD.
"This has been our previous practice and is not related to the absence of police officers at our games," Bellavia said.
ACPD is authorized to have 376 sworn police officers and as of September 2022, only had approximately 280 functional and certified officers who could provide solo law enforcement services, according to an announcement by the department.
Due to the staffing shortage within the police department, Police Chief Andy Penn made a public service announcement in March 2022 that there will be changes to where and how the police department serves the community.
ACPD Public Information Officer Ashley Savage told The Wash in a statement that ACPD advised APS in the fall of 2021 that they would be unable to provide physical security at APS athletic games and special events for the school year 2022-23 due to the ongoing staffing concerns.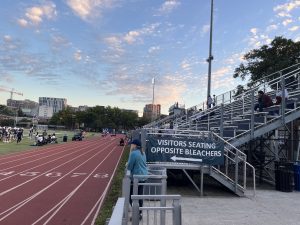 "ACPD continues to work with APS on a plan to ensure a safe school community," Savage said.
These security plans are similar to procedures APS implemented following the decision to remove school resource officers, Savage said.
The Arlington County School Board voted to approve the removal of school resource officers from schools in June 2021.
While ACPD no longer has a presence in the schools or at sporting events, APS does employ what's known as school security coordinators, Bellavia said.
Bellavia said there will be five to six school security coordinators present at the athletic events, depending on the school.