A vacant church in Logan Circle is one of many abandoned properties that is creating concern for community members.
 After the last congregation residing in Grace Reformed Church had to leave in 2019, the building has remained empty and abandoned for nearly four years. The 120-year-old church has kept its stunning exterior despite nature's harsher elements and displays a plaque attributing Grace Reformed Church as Theodore Roosevelt's primary place of worship. Despite the outside of the church's near-perfect preservation, the inside tells an entirely different story, one that mirrors a lot of abandoned properties in the city.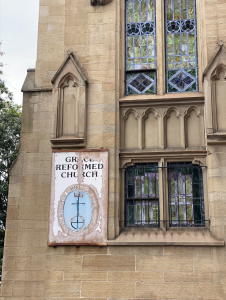 Vacant properties are not a new issue for Washington. In 2017, the Office of the District of Columbia Auditor investigated the management of the Vacant and Blighted Property Program.The audit revealed in a report the major issues of the program such as communication errors with the Office of Tax and Revenue, along with not following legal requirements in monitoring vacant properties. Aside from a loss of revenue, the report also described the frustration community members felt "when their repeated complaints do not produce results."
Jace Jedlicka, a bartender at Commissary and a local resident, has noticed that there are more vacant buildings since the COVID-19 pandemic. Commissary is located on P Street, which is in between Grace Reformed Church on 15th Street and two abandoned restaurants on 14th Street. Jedlicka said that he's interested to see if the city has plans for future development when it comes to the abandoned buildings. 
Jedlicka said that Commissary takes precautionary measures to keep their space clean and rat-free, such as minimizing alley-trash and utilizing regular garbage pickup. It is because of the staff's hard work to stay clean and efficient that the restaurant has been able to mostly return to normal after having to adjust to quarantine in 2020. 
"Having abandoned buildings doesn't particularly help," Jedlicka said about maintaining a clean street. 
Howard Salpeter of Jason Martin Group real estate describes how Washington has an abandoned property epidemic. The D.C. Department of Consumer and Regulatory Affairs have flagged an estimated 3,000 vacant buildings since October 2020. Salpeter said that vacant properties are taxed five times more than regular ones and can be difficult to find buyers.
 "Throw in a historical component, it takes twice as long," Salpeter said.
 When a building, such as Grace Reformed Church, has historical significance, it can discourage potential buyers planning a major renovation. Salpeter said that the historical component requires that the outside of the building must stay the same, regardless of what is happening on the inside. Companies who renovate old buildings and turn the interior into apartments or offices are free to redesign, so long as the outside isn't touched.
 However, that also means the inside of these historic properties can be left unchecked, creating bigger problems. Salpeter said that unless someone reports the property to the city or the owner, issues out of the public eye can continue to fester inside empty buildings. The initial audit report from 2017 pointed out the community impact vacant properties could have such as "deteriorating buildings; fewer neighbors and eyes on the street; magnets for illegal activity" along with health concerns like a growing rat population and trash. 
 On August 18th, DC Health held a community meeting to discuss the rat crisis in the area. A matter of concern was the continual empty state of the Grace Reformed Church. Rats were living in the vacant space and using it as the perfect breeding ground within the area. 
 Michele Molotsky is the District Bridges Program Manager for Logan Circle Main Street. She said that while there has always been a rat problem in D.C., the rodent population has grown during COVID-19. For 14th Street specifically, the undisturbed interior of Grace Reformed Church has added to the problem.
 "Rats need food, water and a place to live to thrive, so an empty building is a great place for a rat to live if it's next to a restaurant," Molotsky said.
 Molotsky said that although she knows the church's owner has been working on hiring an exterminator for the building this year, the problem will continue while the property's status is vacant. She also said that the number of empty buildings has increased since COVID-19 when businesses either went under or had to downsize.
 Both Salpeter and Molotsky said that while landlords continue to wait for the highest bid and the city allows property taxes to build without payment, the vacant properties remain unchecked and unmonitored, until it reaches the point where one building's problem crawls to its neighbors.