Petworth Library became a new walk-up site for free COVID-19 and flu vaccinations Thursday, making it the first walk-up vaccination site in Ward 4.
This walk-up vaccination site is one of six in the District. The other five are spread out among each quadrant of the city.
The library vaccination site is open to all residents ages 5 and up for the Pfizer vaccine. For residents 18 and above, the Moderna and Johnson & Johnson vaccine is available and the flu vaccine is available for residents ages 3 and up.
There were nearly 25 people in the basement of the library on Thursday night and a line of a dozen people outside — around half of them children — waiting to get in for their shots. Security guards handed people clipboards for them to complete personal information such as addresses and medical conditions. Then residents waited until there was enough room in the basement to get their shot.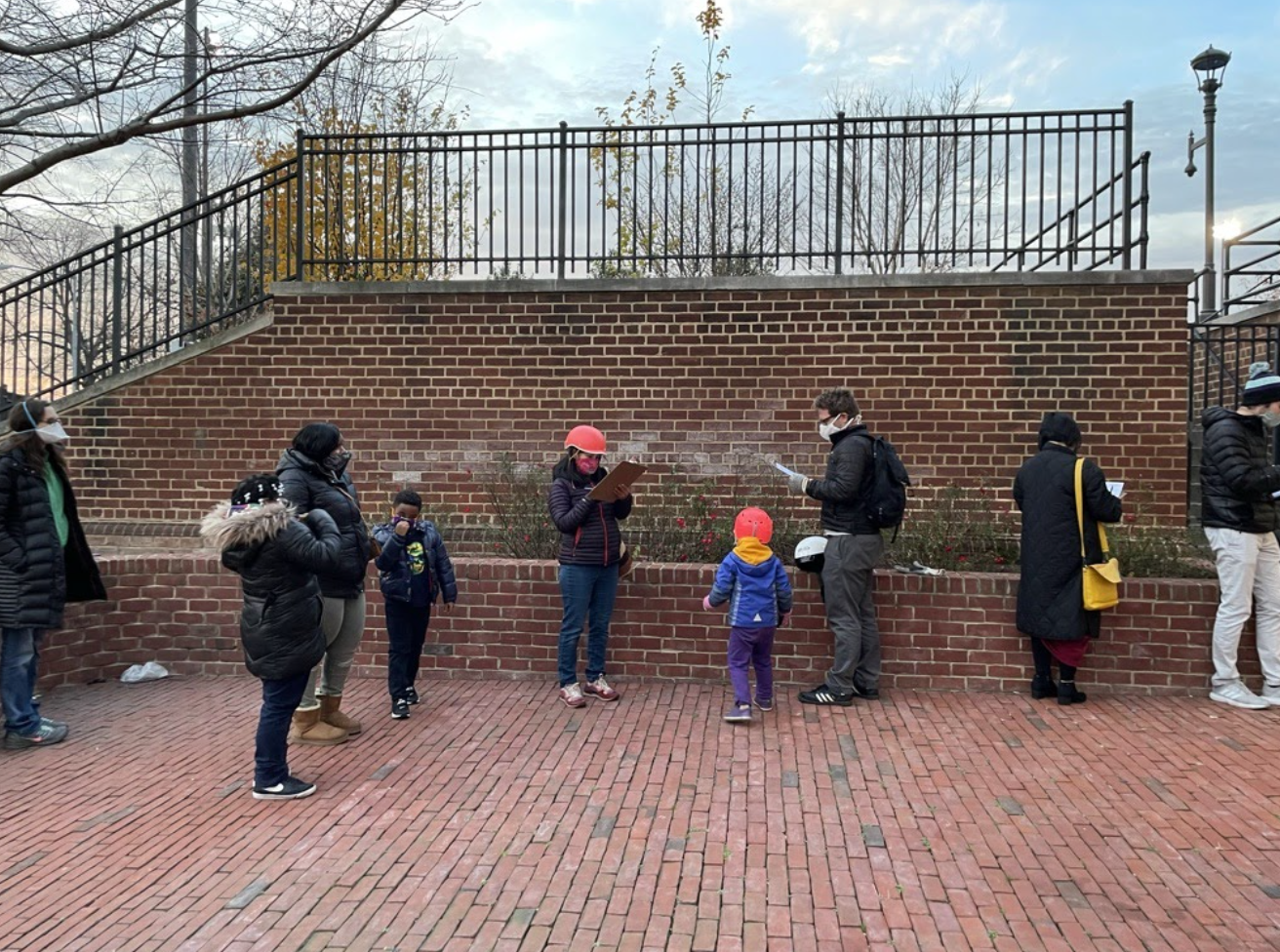 When residents were brought inside, they sat six feet apart with masks on while waiting for medical staff to call them over to receive their vaccines. The whole process took about 30 minutes.
Tiana Lawrence, a Petworth resident, brought her two children so they could receive their first shot of the Pfizer vaccine. Her son is six years old and her daughter is eight. Lawrence said the new walk-up site is convenient because it's close to her home and her children's school, so she had time to stop by amid all the holiday planning she has had to do.
"It's important to me that my kids are protected and same with the rest of my family," Lawrence said. "Everyone in my family ages 12 and up are already vaccinated."
Lawrence said it was especially important that her children get vaccinated so they can "return to normal." She said last week there were only six children in her son's class , as opposed to the normal nearly 20 children, because so many of them were not able to get the vaccine and were exposed to COVID-19 or had to be quarantined.
"This whole thing is really affecting us at home," Lawrence said. "School just hasn't been the same for them and if this will help, I want to do it."
Like Lawrence, Tom Pavarini, a 27-year-old Petworth resident, said the new walk-up location was also convenient for him.
"I just learned about this on Twitter a few hours ago and I was like, 'Let's go! Why not?.'"
NEW: DC Health now has the full schedule for walk-up vaccine sites on https://t.co/tmtfWTXImu so people can plan ahead to get their vaccine or booster!💉

Note the Start/Last Day for each site so you don't go on the wrong day.

Thank you @_DCHealth for following up on my request! pic.twitter.com/De35DK7a6v

— CM Janeese Lewis George (@CMLewisGeorgeW4) December 7, 2021
Pavarini said he was waiting to get his booster shot and was glad there was a place close enough to do so, especially because he'll be coming in contact with more people than usual this holiday season. He said the process was "super easy" because as soon as he arrived at the library, he was helped by the security guards.
Pavarini's roommate, 28-year-old Andrew Ceruzzi, came with Pavarini to get his booster shot.
"[Pavarini] told me he saw we could get our boosters here, so we just walked over and here we are," Ceruzzi said. "It's really nice that it's so close."
Petworth Library will be open for walk-up vaccinations on Tuesdays and Saturdays from 11 a.m.-5 p.m. and Wednesdays and Thursdays from 1 p.m.-7 p.m. The last walk-ups will be accepted 15 minutes before closure. Vaccinations will be offered until Jan. 29, 2022.
"I'm glad people are here, Lawrence said. "This is the right thing to do to keep everyone safe."