Someone fired a gun inside Columbia Heights Metro station following a fight Wednesday night, Metro Transit Police said. It is unclear at this time whether anyone was hurt. 
Police responded around 7:20 p.m. to the incident at the intersection of 14th Street NW and Irving Street NW. Officers confirmed at the scene that there was a shooting but could disclose no further details. 
Sherri Ly, a WMATA spokesperson, said in a statement to The Wash that the person fired a gun from the station platform toward the train. No suspect or victim has been found as of Thursday morning. 
The Green line train traveled south before stopping at Mt. Vernon Square Metro station. Following the incident, Columbia Heights closed both its Green and Yellow lines for nearly three hours. Police guarded the gate.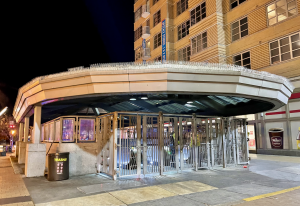 Metro trains bypassed the station, and WMATA brought in shuttle buses as an alternative transportation method. Regularly scheduled Metrobuses continued operating in the area.
This incident marks the second shooting at the station in the past two weeks. A 19-year-old was possibly shot in the leg at the station on Nov. 29, as reported by WUSA9 last month.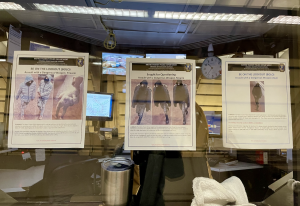 Police are still looking for two people who may be involved with Wednesday's shooting as well as someone in connection with last month's shooting. They encourage anyone with information to contact the MTPD tip line.
MTPD seeking to identify this individual in connection w/shooting on board Green Line train at Columbia Heights 11/29. DC Crime Solvers offering reward up to $1,000 for info leading to an arrest and/or indictment. CALL 1-844-MTPDTIP (687-3847) OR EMAIL MTPDTIPS1@wmata.com #wmata pic.twitter.com/3xEO3Kn8wS

— Metro Transit Police (@MetroTransitPD) December 1, 2021
Columbia Heights residents said they are concerned about recent crime in the area.
"It's happened before, so I don't think I'd say I'm surprised," James Davis, who lives a 10-minute walk from the station, said in response to Wednesday's shooting. "The area has never been my favorite just because there's a lot of people and a lot going on."
But as someone who relies on this Metro stop to access the city, Davis said he plans to continue using it while staying vigilant of his surroundings. 
At the scene, people seemed concerned about the incident and inconvenienced by the station closure. One woman was on her way home from running errands at Giant Food, located one block north of the station, when she learned of the shooting.
"I'm really upset," said Melissa, a D.C. resident who asked we withhold her last name. "It's going to be hard to get home now in the dark in a dangerous neighborhood." 
American Violence, a public resource tracking gun incidents around the country, found that both fatal and nonfatal shootings were up in D.C. from January to October of this year. There were nearly 100 more shootings during those months compared to the same period last year.
WMATA encourages Metro users to call Metro Transit Police at (202) 962-2121 if they notice any suspicious activity aboard trains or at stations. 
"If they see something, say something," Ly, WMATA spokesperson, said in an interview. "They should contact MTPD."
She also encourages people to use its text message service. Texting tips to "MyMTPD" alerts Metro police communications. 
"You can also reach out or contact a station manager or employee," she added.
This investigation continues to develop, as police search for suspects, possible victims and others involved.