Karaoke. Calligraphy. Traditional dancing. 
Older adults at the Wah Luck Adult Day Care Center in Chinatown can join a range of activities starting Jan. 3, when the center officially opens with full operational ability. 
The adult day care center soft launched its opening last October — only offering limited and appointment based medical services due to the pandemic — after nearly three years of planning and discussions with the Mayor's office for approval. 
Since then, patients and staff have also hosted intimate birthday gatherings, gone on field trips and attended lectures about COVID-19 safety protocol.  
Along with interactive lessons, the adult day care center also provides free breakfast, lunch and a snack to each patient on weekdays. For now, patients can show up at the center at mealtime, get their temperature taken and answer a list of questions, before grabbing their packaged food and returning home to eat. 
But, when the center opens at full capacity next month, patients will be able to sit together at tables of eight or more for their meals to chat or play games before going off on group activities. 
"It's like a little kindergarten," said Rita Lee, director of the center. "We just want to make sure they are busy, happy and healthy."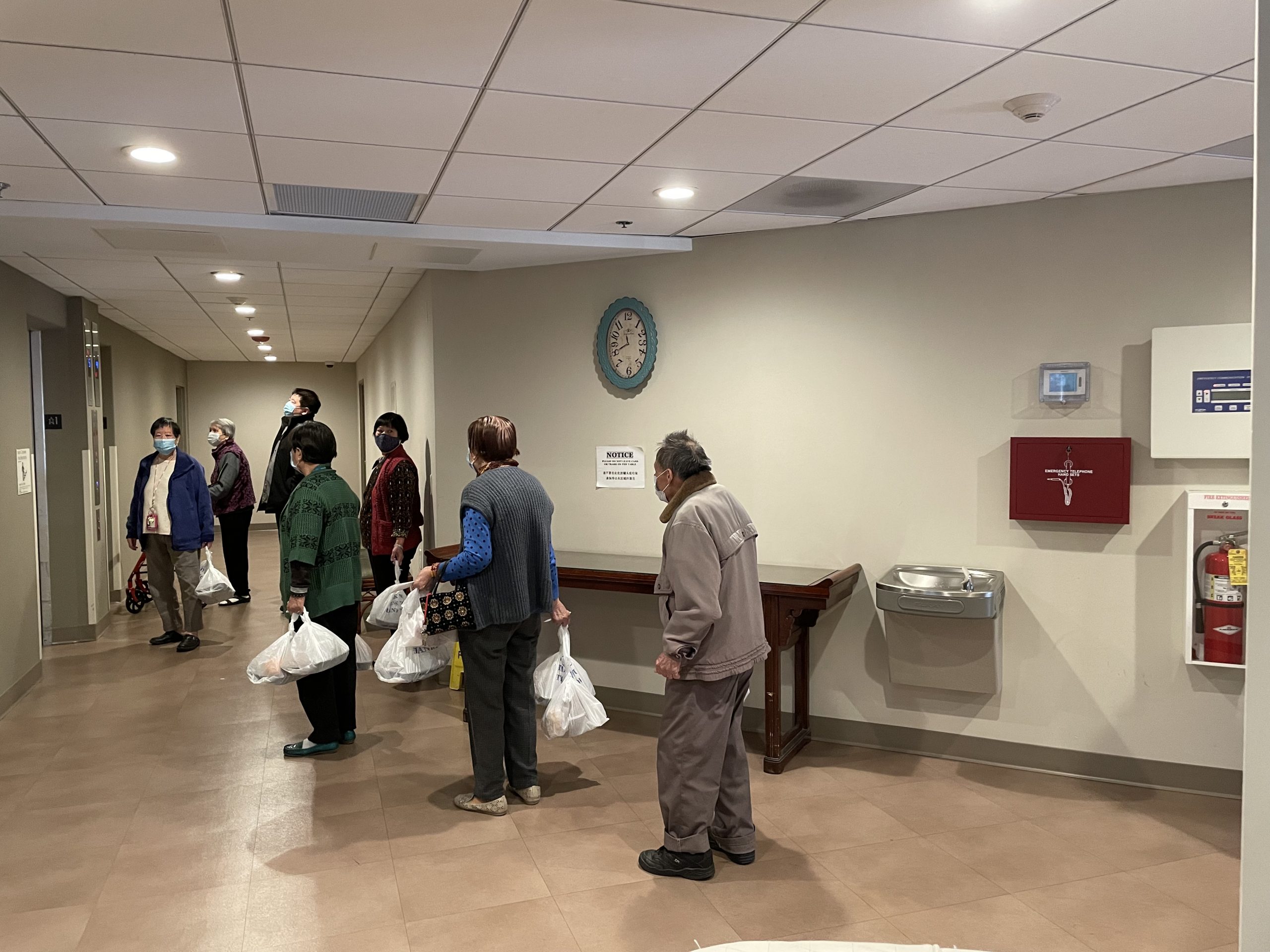 Kwok Wing Yumg, 81, agreed and said the center has been special and convenient for him. "It's very nice here. They do everything very good."
He is most excited to enjoy the library for some reading and "maybe do some exercise" like Tai Chi next month.
'You gotta have a heart'
The Wah Luck Adult Day Care Center is located in the heart of Chinatown on 6th Street and around the corner from the iconic Friendship Archway.
It occupies the first floor — a 7,000 square foot space — of the Wah Luck House, the last remaining low-income apartment complex in the neighborhood. Roughly 98% of the folks living in the building's 153 units are elderly Chinese-Americans, making up the majority of the remaining Chinese population in Chinatown altogether. 
The center's top priority, Lee said, are the medical treatments it provides. It offers an array of medical assistance to the patients — from blood drawing, urine testing and nurses visits to transportation to and from specialists offices. 
With a roughly 20-person staff, including a doctor who comes in twice a week, nurses, a social worker, a mental health specialist, a nutritionist and other medical professionals, Lee said the adult daycare center also prides itself on the personalized support it offers to each patient. 
"You gotta have a heart," Lee said. "All of my staff knows this too. If you are just here to make money and you don't have a heart for the seniors, I tell them please leave."
Yumg Yu Meng, 80, has lived in the Wah Luck House for six years. She said she feels the staff at the center are like her family. "They treat us so well. We live here very comfortable and happy everyday," she said.
On a recent field trip to the Holocaust Museum, Meng said it brought her joy to see one of her friends, a 103-year-old woman who uses a wheelchair, tag along comfortably with the rest of the group. 
About that trip, Lee added "they were so happy — chatting, taking pictures with each other." 
Staff at the center also manages and sorts each patient's medication weekly, ordering prescriptions and filling in pill organizers by time of day to make it easier for patients to follow a medication routine.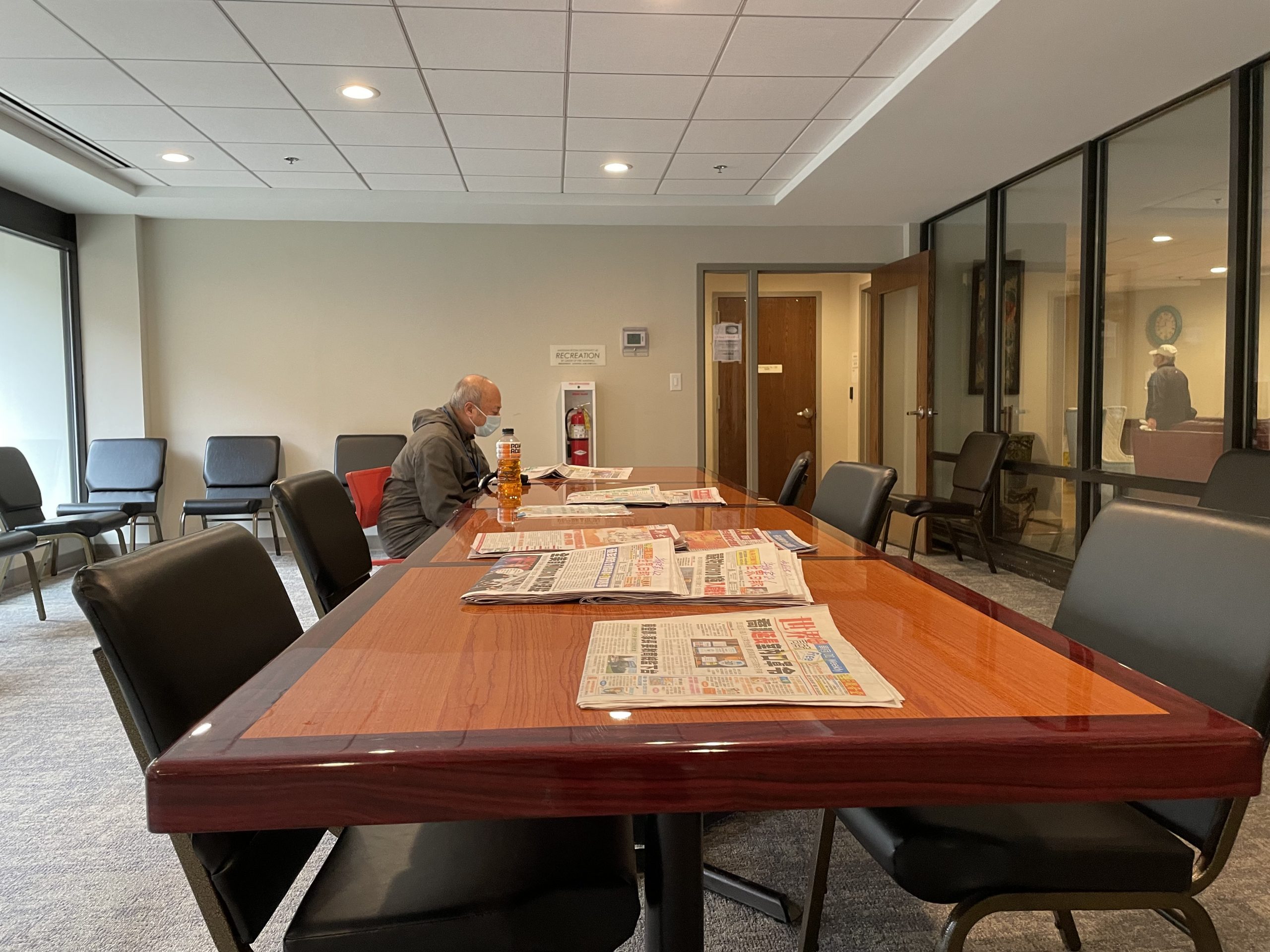 The Chinese Consolidated Benevolent Association, a community service organization founded in 1883, funds and operates the adult day care center separate from the Wah Luck House, though the apartment's leadership is as invested in giving back to the community as the CCBA is. 
Local businesswoman and real estate developer Yeni Wong and her business partner, Andrew Agetstein, purchased Wah Luck House in 2017, looking to turn a page on previous allegations of mismanagement from the real estate company Aimco. Tenants have long known Wong as the owner of the nearby restaurant Chinatown Garden. 
Wong said when she bought the space it was important to her that she gave back to the community. Plus, Wong said "you have to take care of the elders."  
But first, before the adult day care center could operate, the CCBA needed to prove to the Mayor's office that there was a need for the center in Chinatown. 
So, they went unit by unit in the building and took a survey about age, any medical conditions and income status, among other things. The answer was resoundingly "yes," Lee said. 
What makes Wah Luck so special, she added, is how different it is from other elder care facilities across the District. 
"We're not a nursing home. We're somewhere in the middle and that's what makes it so great," Lee said. "Because a lot of the time nursing homes can be so overcrowded. I can see first hand how we can benefit the seniors but still grant them their independence." 
Starting the adult day care at Wah Luck House and in Chinatown was also a way to overcome the language barrier many of the seniors faced when seeking medical assistance elsewhere. 
Fostering community
Since the soft-launch opening last October, Lee said she realized the social aspect the center provides is crucial. Many of the patients have begun to take depression medication as a result of isolation and the pandemic, she said. 
"Some of the seniors will say to us, 'you know I'm happy you're all here,'" Lee said. "'Before I feel sorrow, it was like hell, and now it's not.'" 
She said before the center arrived, many of the seniors would spend entire days alone in their apartments. "It can be so lonely."
Now, Lee said most of the seniors seem to be cheerier. She thinks it's because they have something to look forward to every day, even if it's just going downstairs to pick up lunch. 
Lee described a "sweet and bighearted" woman who comes to her office early every morning to sneak her candies and chat. 
"That's the Chinese way," she said. "Giving. It shows your love — gratitude." 
On one occasion, Lee showed up to work late from a doctor's appointment and missed the visit. That afternoon, Lee said the woman's daughter called her concerned because her mother — who wasn't sure of how to use the phone to check on Lee herself — was worried something had happened to her that morning. 
"It shows that we really care for eachother," Lee said. "It goes both ways."
Recently, she said, another lady made food for the whole staff — though it wasn't the tastiest. 
"Of course we ate it and didn't tell her. It would have broken her heart, she was so excited and did it out of love." 
The center has been approved to provide for around 100 seniors who have a proven medical condition and use both Medicare and Medicaid. Right now, about 94 of those slots are filled and eight people remain on the waiting list — some of which are from within the building.
Though it is not required to live in the Wah Luck House to be treated at the daycare center, all of the current patients do.
Lee said she and the CCBA are hoping to eventually accept people from outside the building, but high rent prices in the neighborhood have made expansion plans difficult. 
She mentioned another affordable housing building on K Street that has a large older adult population. 
"They come over here. They're looking for the opportunity," Lee said. But, she said, "unfortunately we can't accept them yet." 
If all goes well, Lee said she also wants to invite school children to come and volunteer at the center so they can chat with the seniors and play games together.
In the meantime, Lee said she is looking forward to Jan. 3, and to more field trips, grocery trips and holiday or monthly birthday parties among the patients. She said at those events, it's nice to see them "all dressed up and waving to each other, smiling." 
"We try to do the best to talk to them and help them to bring that community value back to life," she said. 
"That's my goal."