Small businesses are returning to the downtown area for the 17th annual Downtown Holiday Market. This festive market offers an opportunity for vendors to gain exposure in the downtown neighborhood that they otherwise don't access. 
"We always look to represent and incubate small businesses that need a leg up," Mike Berman, organizer of the Downtown Holiday Market, said.
The market is located on F Street NW between 7th and 9th streets in front of the National Portrait Gallery, taking over the block with shimmering lights and holiday tunes. Since opening this year, the market has been bustling with visitors anxious to see the market and shop locally. When Vice President Kamala Harris visited to celebrate Small Business Saturday, she said these businesses are "part of the civic and social fabric of the community."
Me at the holiday market in DC: Why is everyone taking out their phones?@wusa9 #Veep pic.twitter.com/ccalVHEqKD

— Matthew Torres (@News_MTorres) November 27, 2021
There will be more than 70 vendors present at the market, selling goods like D.C. artwork, glass-blown ornaments and other handcrafted goods. It's open every day until 8 p.m., which allows visitors who work during the day the ability to peruse the market after.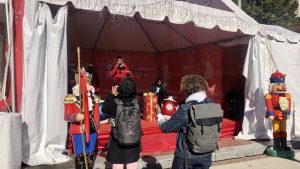 This market is an opportunity for businesses to create a presence in the downtown neighborhood without investing in a rental space. With high rents and low tourism numbers since the pandemic, small businesses aren't racing to get into downtown storefronts.
"There is not a single small business that I deal with that could contemplate the rents that are charged for downtown storefront retail locations," Berman said. 
 Jon Wye, a vendor at the Downtown Holiday Market who sells belts and other leather goods, said in 18 years of operation, he hasn't even considered opening a brick-and-mortar store downtown.
 "I would have to have a greater selection of items and a much bigger brand… that would just be a lot more stress in my life," he explained.
The transient nature of the DMV also helps vendors expand their consumer base at the market. Wye said regional customers who come to the market and then move away have "taken [his] brand with them."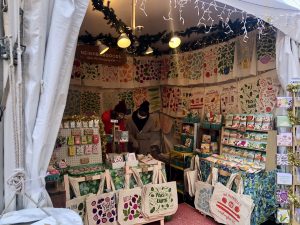 Jodi Kostelnik owns and operates The Neighborgoods, a small gift shop, from her basement. Before the pandemic she had a storefront in Shaw but had to shut it down. Now, she is looking again for a place to rent, but says she has little hope for a place in downtown D.C. Though costs are top of mind as she is considering where to rent, she said that low foot traffic in the downtown also discourages her.
The holiday market attracts people from all over the DMV, not just D.C. residents. Small businesses get a high level of exposure from this market, since for many of them it's their only reason to come downtown. 
 Sonda Allen, owner of jewelry business Turtle's Webb, says this holiday market is the only thing that brings her into the area. She says downtown D.C. is much more friendly to larger, multinational businesses.
 "It's all Starbucks and Louis Vuitton, it's not feasible for small businesses." 
 These larger companies dominate the city center of D.C., with multiple blocks scattered with luxury fashion companies and little presence of smaller ones. Allen says the businesses that operate in the holiday market focus on the art rather than profits.
She said she doesn't have a storefront and doesn't want one, "I'm not interested in being a machine, I don't want the pressure of needing something on the shelves every day."
 Allen also says that this market, with its focus on small businesses and artists, offers visitors a break from the professional culture of the city. Wye echoed this, saying the political and business presence in the city makes people lean more traditional in their tendencies. With all the "conservative dress and conservative attitudes" in the city, Wye celebrates the market for "inject[ing] some color into the city" to allow people to embrace "a kind of artistic side."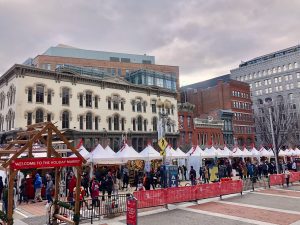 Vendors and organizers expect sales to be high this year, but not as high as 2020. Last year set a record for many sellers, which Berman attributes to all the other stores and markets in D.C. being closed in 2020. 
"Folks flocked to us… Now, there's a lot more open… tourism isn't back… office workers definitely aren't back yet… but we're hoping to pick up where we left off in 2019," Berman said.