During the pandemic, an influx of trash strained D.C.'s waste collection services, which paused street cleaning for over a year. A recent clean-up in Takoma highlighted the importance of neighborhood initiated clean-ups.
On a crisp Saturday morning this month, a couple dozen D.C. residents gathered by the Takoma metro stop, armed with bags and rubber gloves to clean up litter along Cedar Street NW.
As they made their way down the 400 block, children ran ahead of their parents, returning to deliver bits of paper and discarded wrappers to the several bags that would be full by the hour's end.
Elaine Koerner has been a Takoma resident for three years and said this was her second clean-up, but the first for her four-year-old grandson.
"I'm trying to teach him about not littering and picking up trash and I think he has a really good time," Koerner said while her grandson proudly delivered a penny he found on a nearby playground.
The city offers services for residential and public trash collection and street sweeping, but some streets are left without designated street sweeping, pushing residents to host regular clean-ups. In addition to the influx of trash during the pandemic, the strain on city resources pushed the city to suspend street sweeping for over a year.
The pause in services highlighted the importance of programs like Adopt a Block, a program funded by the Mayor's Office of the Clean City, which allows residents to select a block and make a commitment to hold clean-ups.
Through this program, the city provides tips and supplies for clean-ups, including pandemic-specific information on collecting personal protective equipment like masks. There are 1,063 total recorded volunteers for Adopt a Block who collected 925 total trash bags' worth of garbage from 2018 to today, according to Open Data from the Office of the Clean City.
Erin Palmer, ANC 4B commissioner and co-host of Saturday's clean-up in Takoma, said neighborhood organized clean-ups can be a powerful tool in overall street cleaning and community building. The one in Takoma was held through Adopt a Block.
Evan Yeats, ANC 4B commissioner, co-hosted the clean-up with Palmer and said programs like Adopt a Block are helpful in reaching areas not covered by city "clean teams" or street sweeping.
"It's not like a machine is going to come through and pick it up if we don't, so I don't see how it's really going to get off the road and into the trash can unless we do it," Yeats said.
While he said these programs and clean-ups are effective, Yeats said he wishes more spaces were covered. He said one barrier is the amount of resources available.
"You'll be walking back and you'll still see stuff still on the ground," Yeats said about neighborhood clean-up days. "Just the amount of capacity it takes to get it all picked up would be huge."
Yeats said the resources provided by the Office of the Clean City are important, however, people don't need city support to host a clean-up in their own neighborhood.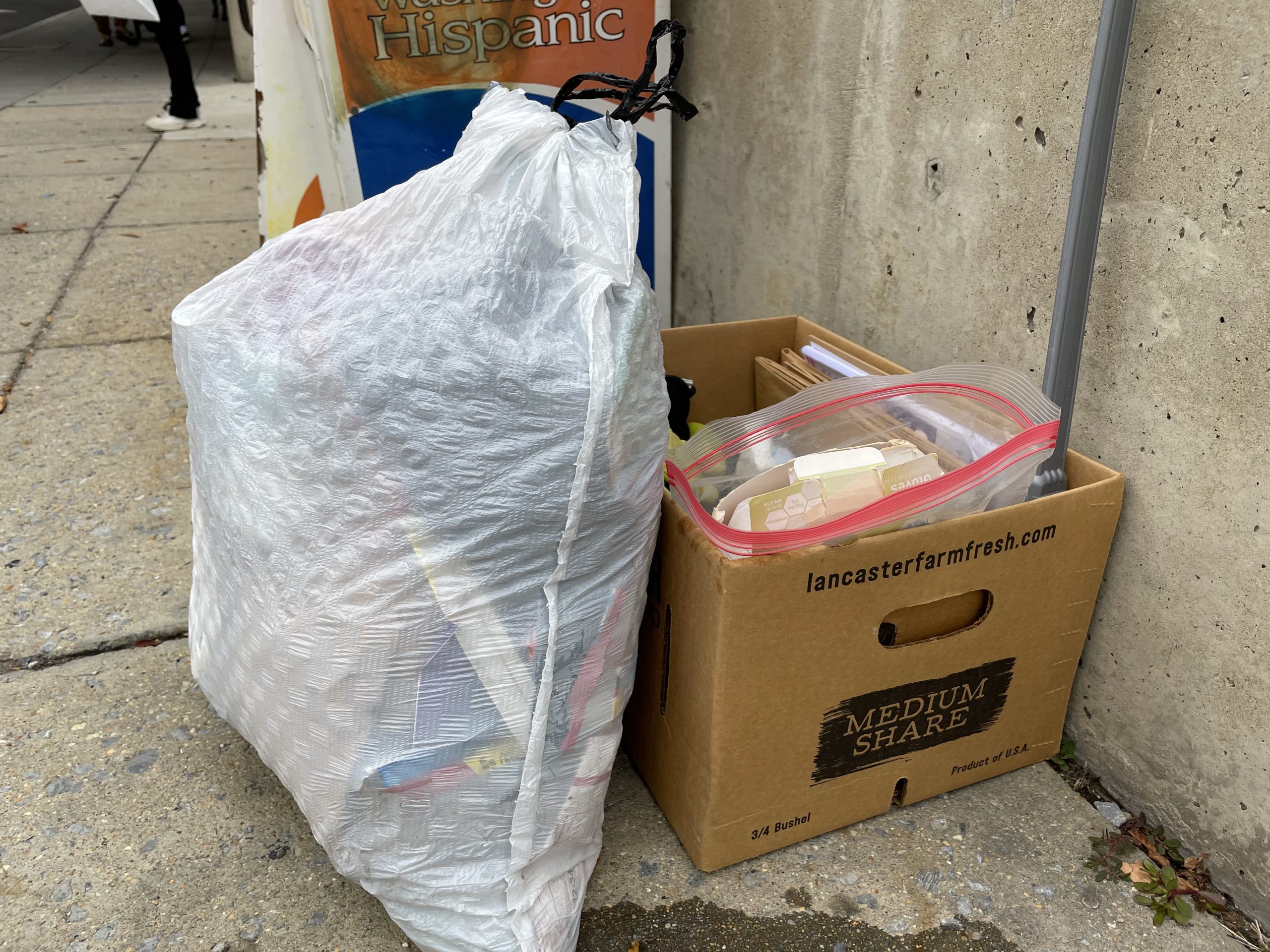 Since the pandemic, there has been an increase in trash and recycling produced as businesses shifted to takeout and more people ordered online. Coupled with delays with Department of Public Works trash collection due to capacity issues and safety concerns, some residents like Koerner have noticed overflowing public and residential trash bins.
Whenever Yeats spots an overflowing public trash can, he said he reports it to 311. He said the current influx in trash could be considered a good thing because it means people are adjusting their lifestyles, ordering more carry-out and supporting local businesses.
To accommodate the increase in business, Yeats said DPW should consider updating its schedule and more frequently addressing trash in areas that used to be less busy.
However, Yeats said the influx in trash hasn't had too much of an effect on littering and the trash collected during Saturday's clean-up.
Koerner said she hasn't seen a big difference on the amount of trash on the street, but said she's noticed more trash and cardboard because people are ordering more online.
Palmer said there has been an issue with overflowing trash cans in her neighborhood particularly since the pandemic. From what she can see in her neighborhood, Palmer said the issue hasn't improved since 2020 and the early days of the pandemic.
In December 2020, The Washington Post reported a series of structural issues coupled with sanitation workers testing positive for COVID-19 led to a mound of trash culminating in Fort Totten, a publicly operated transfer site.
Laurence Minor, has lived in Takoma for the past three years. He said he enjoys neighborhood clean-ups because of the community building.
"Meeting neighbors and actually knowing each other and cleaning up and making sure we maintain our areas," Minor said. "It's pride."
Peter Wood, an Adams Morgan resident and ANC 1C03 commissioner said he heard about the clean-up from ANC commissioners and wanted to support the neighborhood. He said it's a powerful way of getting in touch and understanding their neighborhood.
"How it works and how a lot of the problems for better or for worse if we want it fixed we need to do a little bit more work ourselves," Wood said.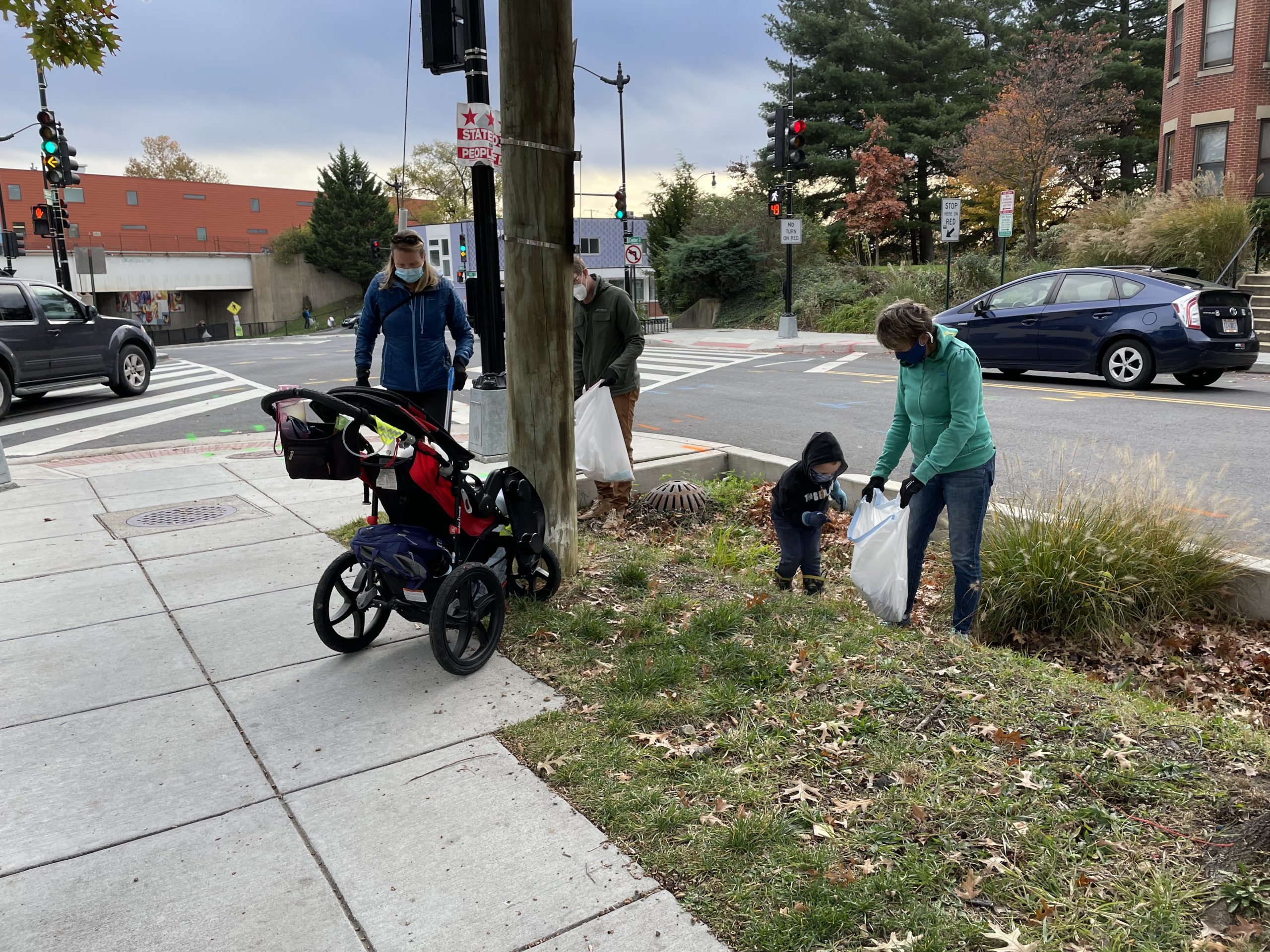 Wood said participating in clean-ups gives the feeling of having stake in your neighborhood. Ideally, he said people wouldn't litter or public services could better maintain the streets and sidewalks. However, he said the city compensates for this by providing materials and administrative support for those "willing to do the groundwork."
Another Takoma resident, Jamie Atchison, picked up trash while pushing a baby stroller, using a grabber to collect cigarette buds wedged in sidewalk cracks. She said she wanted to participate to clean-up the community while teaching her kids about the importance of community and keeping the environment clean.
On top of the environmental impact of littering, Atchison said it is a public safety and an overall neighborhood aesthetic issue.
By the end of the clean-up, an hour after it started, Palmer said volunteers had collected 12 bags of trash. After doing so many clean-ups, she said it builds up overtime and makes an impact on diverting waste from neighborhoods and waterways.
By the end of the clean-up Koerner said she was feeling happy to participate and proud of her neighborhood.
"Happy that my grandson is here and worked with me and saw how cooperation works," Koerner said. "This was a good teamwork day. He could see that."