As D.C.'s cultural centers emerge from the pandemic, Shaw's contemporary galleries are hosting a wealth of exhibits that nurture the importance of presence and reflection. Thematic similarities between these shows are a reaction to the ever-changing essence of human connection; Otro Tiempo, Empirical Evidence, and Moment of Interrogation triangulate the zeitgeist of living in a post-pandemic atmosphere, and local D.C. arts funding divided among Shaw's contemporary spaces has made these exhibitions possible.
The U St. Corridor and 14th St. are home to Hamiltonian Artists, Transformer, and Foundry Gallery — modernist spaces that dissolve the barrier to entry for emerging artists. In comparison to the blue-chip galleries commonly found in New York, these organizations place a greater emphasis on promoting the work of local artists.  
The Hamiltonian's core focus is to engage the D.C. community with artists based in the region, with lesser importance placed on the market and financials, said Hamiltonian Administrator Jonathan Bella. While government support for local galleries certainly exists in D.C., barriers to financing are pervasive, he said.
"It's strange because D.C. has some of the best museums in the world — the whole Smithsonian Institution the Hirshhorn Museum, the National Gallery of Art — all of these institutions in D.C., and then you have local spaces that are struggling."
This past year, the DC Commission on the Arts and Humanities (CAH) pledged to redistribute funds through its grant program to the District's more intimate art spaces to promote inclusivity in the art world. In August, the CAH granted $9.3 million out of its $16.5 million budget to a greater proportion of smaller art groups in D.C., The Washington Post reported. 
The Foundry Gallery has taken full advantage of CAH's grant program. Foundry's show Moment of Interrogation wrapped up on Sunday, and member Gregory O'Hanlon views CAH's grants as a pivotal financial addition that enables the gallery to host experiential art in a post-pandemic environment.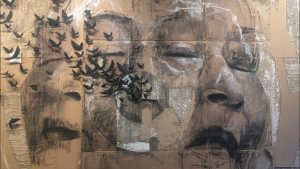 O'Hanlon contends that the CAH has been supportive of Foundry and smaller gallery spaces in the District. "The pandemic funding was more widespread and to a broader range of art spaces than prior," he says.
During the height of the pandemic, exhibition space Transformer took an innovative approach to assist local artists from the financial sticker shock that rippled across the art industry in 2020. The gallery held an auction to support local artists in D.C.; the funds collected were then released to artists in the form of $500 grants.
MichaelAngelo Rodriguez is a District-based multimedia artist and photographer who applied for the grant. Rodriguez's first solo exhibition — Otro Tiempo — closed at Transformer last week. Produced over a four-year period, the show features a tranquil amalgam of photo and video work taken from the perspective of a car.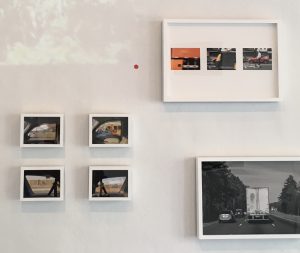 Each piece in Otro Tiempo captures a unique depth of feeling experienced during a single moment in time. This nostalgia is particularly emphasized in "The Sky Through the Trees," a multimedia piece that glides through a continuous foreground of leaves and filtered sunlight. Rodriguez views this work as the anchor piece of the exhibition because "there's something so soothing and really meditative about passing through the trees."
Group-show Empirical Evidence, housed at the Hamiltonian Gallery on U St., channels similar themes to Rodriguez's work, except with a more climate-oriented angle. The exhibition calls for a communal response to the humans' interaction with the environment, Bella said. 
The diverse perspectives brought to Empirical Evidence demonstrate how individual thought, in collective space, can challenge living systems. In the exhibition, post-pandemic human interaction and individual relationships with the environment are presented in painting, sculpture, video, illustration and screen printing. Ultimately, the show points towards the artists' conceptualization of nature, climate change, and life forms not typically perceptible in everyday lives. 
Moment of Interrogation is the pandemic brainchild of D.C. artist Courtney Adair Applequist, whose study of breath as a meditative and cathartic practice bore a collection of work that reflects her mulled contemplations with  the '-isms' of society  — sexism, colonialism, and consumerism. Adair Applequist's relationship with these constructs resulted in a series of paintings, illustrations, and prints that challenge her self-perceptions as an artist creating work in the age of COVID-19.
Collectively, the works presented in Otro Tiempo, Empirical Evidence, and Moment of Interrogation conceptualize what it means to live in a post-pandemic atmosphere, emphasize the ever-changing essence of human connection, and call for a moment to pause and reflect. 
The Wash reached out to CAH to hear more about funding opportunities for local artists creating in the DMV, but never heard back. From their website, the CAH offered 12 funding programs for individuals and not-for-profit organizations to apply to this year, all of which are currently filled. 
On a final note, Bella said that while the CAH funding programs are immensely useful to artists and non-profit organizations alike, the grants that the CAH offers are oftentimes correlated with wealth and education. In response to this problem, Hamiltonian Artists has begun offering workshops that aid local artists during the grant application processes, helping artists see their work to fruition.