The rental market in downtown D.C. has fully rebounded, according to a new DowntownDC BID report. Real estate experts cite the return to work, influx of new administration officials, and the reopening of the rest of the economy as major drivers of this recent rebound. 
"People are very excited to be back in D.C.," said Abigail Paulsen, realtor for Coldwell Banker Realty.
Downtown D.C. experienced a "great exodus" at the beginning of the pandemic, Marie Claire Ntam, a luxury real estate agent from Keller Williams told The Wash. Through most of 2020, the rental market was depressed. People left the city because they were unwilling to pay high rates when workplaces and entertainment attractions were closed.
This affected rental rates significantly. "You can tell a lot about what's trending in the market when you look at luxury apartment buildings… We started to see really unprecedented incentives being offered," Jenna Sinise, an agent at Gordon James Realty, said. 
Rents dropped, vacancy rates rose and incentives, like three months of free rent and discounted move-in costs, were common. 
"All of that's gone away. You won't find a deal like that now," Sinise said. 
The vacancy rate is now lower than before the pandemic, at 3.7 percent. It had hit a high of 11 percent in Q4 of 2020. 
Prices have also rebounded. They dropped 12 percent in downtown D.C., more than anywhere else in the city at the worst point. 
Paulsen, a real estate agent for Coldwell Bank Realty, said the return to in-person schooling is a primary reason people have returned. She said many families had moved to states where their children had more in-person opportunities, and now that D.C. Mayor Murial Bower has reopened schools, they have come back. 
The pandemic motivated families like the Bealieus to do exactly that. Early in the pandemic Kate Bealieu, her husband and their two children sold their house in the DMV and moved to New Orleans to be closer to family and send their kids to school. They came back to D.C. a year later, when their children were able to go to school in-person and the district started reopening. Now, her children go to soccer games and community festivals with other D.C. kids and are excited to be back in school. 
Ntam said that the influx of new administration officials is another especially pertinent contributing factor in D.C. New employees of the state department, embassies, and other federal agencies like FEMA have been coming into the city as a result of the 2020 election.
The cost of moving downtown is higher than many areas around the city and discourages some from renting in the area. Still,  the federal government handles relocation costs for federal workers, so "the convenience of being downtown is more valuable and they can focus on that," Ntam said. 
Though the pandemic has brought with it financial challenges, all three realtors said they had not seen a significant change in clients' budgets, and people are still willing to pay high prices to be downtown. 
The average rent in downtown D.C. is $2,979, whereas in the rest of the District, the average rent is $2,160.
While the rental market took a dip during the pandemic, the housing market stayed strong, Ntam said. Many homeowners wanted to take advantage of the seller's market.
Once people sold their homes, she said it was difficult for them to secure another property which drove them to rent until the market stabilized. Those intending to build new properties were also forced to rent while waiting for materials, many of which are on backorder due to supply chain difficulties resulting from the pandemic.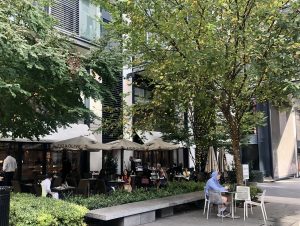 The places people are looking for have changed since last year, Paulsen said. People want to be able to "live, work, and play" in the areas they move to. This makes downtown a very popular destination because of the proximity to entertainment attractions and access to public transportation. 
Paulsen also touched on the unique draw of downtown D.C., saying that "D.C. is very much a city that is different from any other major city because it has what people look at as power, which is politics."
As businesses start to plan out their return to office plans, employees are preparing to need to be closer to the city again.
"That seems like that is a driving factor," Paulsen said. 
The rental market is the only sector of the economy downtown that dipped and completely recovered from the pandemic impact. Office vacancies, restaurants and bars, and hotels are still underperforming in terms of revenue, compared to pre-pandemic levels.
As vaccines became widely available and restrictions loosened, restaurants and bars did see an increase in revenue. They are now operating at 70-80 percent capacity compared to pre-pandemic levels. 
As residents come back, they won't benefit from the rental incentives from just a few months ago, but they will have a reemerging social scene to return to.