Adams Morgan housing inventory remained higher than usual while demand remained lower than usual as the neighborhood housing market adjusted to the COVID economy.
This means rent began decreasing over the summer before stabilizing in the fall. Landlords say demand fell during the pandemic, while tenants say the neighborhood remains unaffordable.
The Wash analyzed data from Zumper which showed a 43% increase for one-bedroom rentals. Local realtors helped us discover these numbers were misleading, as realty sites like Zillow and Zumper silo data within their respective platforms, giving an incomplete picture. MLS data provided by Nomadic Real Estate reveals a decrease in active listings from both tenant turnover and landlords choosing not to relist at lower prices.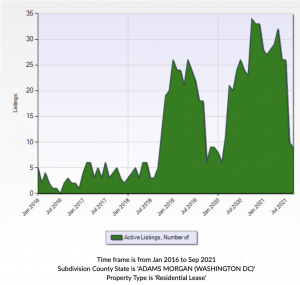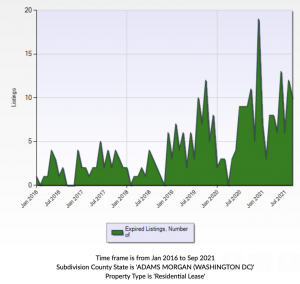 The data shows the decrease in active listings correlated closely with the number of expired listings. This means some landlords chose not to relist their properties with lowered rent.
Devin Henry, Director of Sales & Marketing for Nomadic Real Estate, said the pandemic put both tenants and landlords in unprecedented circumstances, exacerbated by the fact that D.C. is an incredibly expensive place to buy or rent property.
"When rental demand started to decline during COVID, a lot of these landlords found themselves with paper-thin margins and needed to weigh the risks of vacancy losses versus negative cash flow by reducing the rental price," Henry said.
For some landlords leasing a unit began to cost more than they could receive from rent.
Two ANC1C commissioners recently moved out of Adams Morgan and cited housing as a reason.
Former commissioner Japer Bowles said in an email that he moved four times during his three-year tenure serving 1C07 and that this process was extremely difficult each time. He said renting in Adams Morgan became too costly for the amount of space and lack of amenities.
"In my opinion, there's a sizable renter market that is only getting more exclusive and costly because property owners oppose any new development," Bowles said in an email.
Former commissioner for 1C05 Zack Gold did not respond before the time of publication.
In a statement on Twitter, Gold said, "My family has to move out of our apartment rather suddenly. Unfortunately, we could not find a new home within my single-member district: a condition for holding an ANC seat."
Gold said in the statement that he's proud of the efforts he supported while in office and will continue to use any platform he has to advocate for safer streets for families in Adams Morgan, Ward 1, and the District.
MLS data shows rent in Adams Morgan remained relatively stable over the past five years.
Michael Heitsuman, a real estate agent for Coldwell Banker Realty, said he's had to drop prices for some buildings where he couldn't get anyone to rent.
He said a two-bedroom apartment he rented to the British Embassy for seven years now has to be relisted at a lower price.
When asked for his reaction to the number of expired listings, he said "That shows you that the people aren't there."
He said he now sees an increase in younger tenants who often move in with roommates.
Similarly, Russel Sears says the one-bedroom condo space he's rented out for the past eight years is now facing difficulty finding a tenant.
"It's just strange," Sears said. He said he might have to repost and lower his listed price.
ANC commissioner for AC03 Peter Wood said he feels he's gotten lucky with his recent move, saying it is often difficult for many to find affordable housing. He now lives with his partner in a rental condominium space, after having lived with seven other roommates at his old home, he said.
"If we had all the money in the world, it would be easy because there were definitely places available that were very expensive, but we just can't afford that," Wood said.
Henry said Nomadic recently rented an 11 unit condo to full occupancy in under a month.
"That would simply not have been possible a year prior, not even close," said Henry. "but it still took some creative marketing and aggressive rent concessions in order to make that happen."
Many properties in Adams Morgan currently offer the first month free for new renters, Zillow shows. Henry said seasonality is also a factor as demand normally peaks in the summer months before dipping in the fall. Covid complicated this as he says demand dipped considerably in Spring 2020, leading to increased available housing and decreasing rent up until July, when the number of active listings decreased.
The District has not lifted its restrictions on rent increases, which first took effect during the public declaration of emergency and have since been extended until 2022.
Renters make up 65% of households in Adams Morgan, according to Zumper.
The District's freeze on eviction notices for nonpayment of rent expired last Tuesday.