Energy was high at the Bethesda Row Arts Festival last week, leaving many artists thinking that sales from in-person art shows nationwide will play a vital role in the economic comeback of their small businesses.
"The pandemic decimated this entire culture of traveling art shows," said Jon Gann, co-director of the Bethesda Row Arts Festival. "There are artists whose entire livelihood was to pack their car and truck with their artwork and travel from city to city and sell. And that didn't happen."
This year marked the 23rd annual festival. Art festivals, including this one, were canceled last year due to COVID-19 shutdowns. This show typically draws 35,000 attendees, but festival organizers estimate 25,000 came this year.
The artists said while business is slowly rebounding, they are excited to show their art because others continue looking for work. The U.S. Bureau of Labor Statistics reported the unemployment rate of creative workers, such as those in both fine and performing arts, was three to four times higher than the national rate in August.
Artist Luis Enrique Gutierrez, originally from Nicaragua and now living in Wake Forest, North Carolina, said he was happy to be back in Bethesda showing work among roughly 130 other artists. 
"It was terrible for us," Gutierrez said about the pandemic. "Artists really enjoy art festivals. And for me, it was really hard because this is my principal business, so it was horrible."
Within three months of the pandemic hitting the United States last year, the Bureau of Labor Statistics reported a 52% loss in creative jobs — from 2.5 million to 1.2 million. As the arts continue to recover, people are working again. But jobs have yet to return to pre-pandemic numbers. 
As a full-time artist, Gutierrez told The Wash that he relies on traveling to art shows to make a profit. At the show, he added an additional layer of paint to a ceramic sculpture, explaining his thought process to customers. Steven Daoust of Gaithersburg, Maryland, purchased a piece from Gutierrez and said meeting the artist in person makes him more inclined to buy.
"When I buy art, it's always a plus to meet with the artist," Daoust said. "Have them explain their inspiration. To see the art and feel the art and touch the art. To get that energy. You can't get that online. You can only get that live."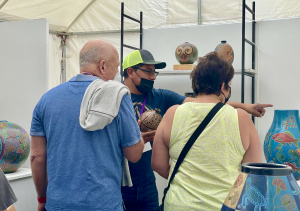 Artist Carol Korte of State College, Pennsylvania, who makes handcrafted jewelry, said she had noticed a change in how people approach her art post-shutdown. "It is picking back up," Korte said at the event, "but I hear a lot of 'I don't wear jewelry anymore since the pandemic because I never dress up or go anywhere.'" She thinks this will change with time.
To provide further assistance to fine and performing artists, lawmakers introduced the Creative Economy Revitalization Act (CERA) in August. The bipartisan bill, put forward by U.S. Reps. Teresa Leger Fernández, D-N.M., and Jay Obernolte, R-Calif., would authorize $300 million in grants to stimulate the creative economy and aid artists following the pandemic. 
Michael Seman, an assistant professor of arts management at Colorado State University, co-authored a report released by the Brookings Institution about COVID-19's initial impact on the arts, and he continues to follow the economic impact today. 
"I mean that's fantastic — $300 million — but we're talking about something that is estimated about $900 billion in terms of economics," Seman stated about CERA. "But what I'm really excited about is it will bring that idea back of 'How can we support artists to some degree with projects that benefit the greater population in the United States and also give back to many artists?" 
Bethesda-area residents, like Daoust of Gaithersburg, said this event brought the community together again. He also wants to see more in-person art, "which we desperately have missed for the past two years," he said. "It's great that the city of Bethesda is doing something wonderful like this." In addition to supporting artists, the festival also increased foot traffic to local businesses, employees commented.
Gann, the festival's co-director, told The Wash he hopes this event's success is a sign of what is to come for the arts industry.
"It's easy to buy mass-produced, quote, art and decor," Gann said. "It's another thing to go to an event like this and connect with an artist and really understand their process and really have a completely different appreciation and value of it."