D.C. commuters must now lock e-scooters to city infrastructure like bike racks, signs or corrals after their ride. In the downtown area, where usership is highest, this could change how people use the alternative transportation.
Jack Shanley, 23, was on his way to the airport and was unaware of the new scooter restrictions. When he tried to end his ride he had to find a bike rack, and he had trouble with the lock. The app required him to take a picture, which took even more time. 
"I'm extremely annoyed at the moment… I was going to do a bike, but I just wanted to drop it wherever and now I can't do that," Shanley said.
Shanley, a soon-to-be D.C. resident, said because of how much time it took him with the lock, he is "never going to use this again."
The restriction went into effect on Oct. 1. The D.C. City Council approved the legislation last October and set the deadline a year later to allow companies time to design and install locks on the vehicles.  
Major scooter operators like Lime, Spin and Bird now require users to upload a photo of their parked scooter to end the ride. Users who violate the new rules by not uploading a photo, or uploading an image of a scooter parked inappropriately, will be warned. The companies may suspend repeat offenders from the service.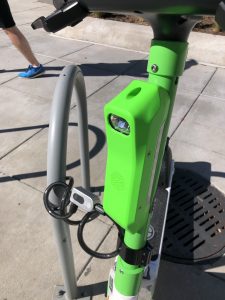 Scooters downtown are used heavily by tourists and city workers. Robert Gardner, Director of Government Relations at Lime, voiced concern that this regulation will decrease their ridership.
When D.C. Council member Mary M. Cheh proposed the legislation in 2019, Gardner said Lime "certainly didn't agree with it," but they will comply now that it is in effect. In cities where these rules have been rolled out already, such as Chicago and San Francisco, he said Lime saw a "pretty marked decline" in users. 
Most riders use the scooters to go door-to-door. Needing to find a bike rack or other infrastructure changes makes it less convenient. Convenience is the highest priority for scooter users, according to Gardner. 
Cheh states on her website that she encourages the use of green vehicles but pioneered this restriction on e-scooters. Cheh told The Wash that when the scooters were rolled out in D.C., there wasn't an appropriate "scooter culture," and this regulation would help people who have been frustrated by scooters on the sidewalk. 
 "I've already gotten emails from people saying thank you, thank you, thank you," the councilmember said.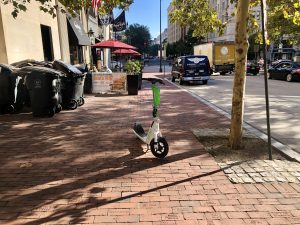 Edward Segal, creator of the organization DangerousDCScooters and collaborator with Take Back Our Sidewalks, supports this action by the D.C. City Council but wants to see proof that scooter operators are being held accountable for creating "public health hazard[s]." 
He is advocating for heavy fines and even a complete withdrawal of permits if complaints continue. 
As a part of the Shared Fleet Devices Amendment Act of 2020, the law with this restriction in it, the District Department of Transportation was instructed to install 1,000 new bike racks every year until 2025 to increase accessibility for riders.  
Gardner supports that plan. He told The Wash that if the new restrictions were  going to be in place, the city must double down on investing in infrastructure where dockless mobility is most used.  
Not all Washingtonians are discouraged by the new law, though. While riding scooters on a sunny Friday afternoon, friends Crystal Rambaum, Christie Barrel and Hallie Smith said they were happy about the new regulations for safety reasons. 
"I love it!" Smith said about the locks. 
These restrictions came into effect just months after Mayor Muriel Bowser announced a budget that prioritized green vehicles to reduce car transportation.