An estimated 14% of the U.S. population experiences hearing loss. In Washington D.C., that equates to about 100,000 individuals. 
The D.C. chapter of the Hearing Loss Association of America is working to advocate and bring more awareness to the issues those experiencing hearing loss face. 
"If I hadn't told you, you wouldn't know I was hard of hearing," Judy Alden, D.C. chapter president of the HLAA said. "So, that's something we are working hard to educate people on."
Only about 2% of people with hearing loss speak American Sign Language because they lose their hearing later on in life. Alden says this makes the hard of hearing community not "Instagrammable" because they have an "invisible disability."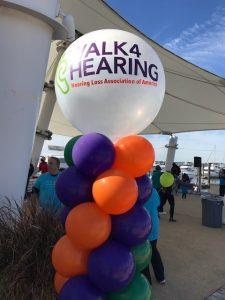 "The hard of hearing community, although we are less visible because we don't sign, we don't consider ourselves a culture like many in the deaf community do," Alden said. "We are people and we happen to have hearing loss. We are not top of mind often with people."
On Sunday, Oct. 2, the HLAA hosted a Zoom meeting with members of the D.C. and Capitol Hill community to speak on behalf of the policies they want to see put in place for more inclusion.
"My biggest problem is with education. I want people educated," Lise Hamlin, director of public policy for HLAA said in the meeting. "People need to know what are possibilities and what is out there."
The HLAA is currently focusing on three initiatives: providing input for the Food and Drug Administration on the consumer perspective regarding, over-the-counter hearing aids, expanding Medicare to cover hearing aids and hearing health care services, as well as, accessibility for people with hearing loss during the pandemic. 
Hamlin used the meeting to provide people with a better understanding of the legislative process and what is being done to better provide services and access for those in the hard of hearing community. 
The meeting was posted on Capitol Hill neighborhood meeting boards and consisted of mostly attendees who experience hearing loss themselves. Lisa Finkelstein, described her experiences with a doctor who wore a clear mask so that they had a better way to communicate in the midst of the pandemic.
"We have to be our own advocates," Finkelstein said. "We each have to do our own part with the people we encounter."
The HLAA is also advocating to make assistive hearing technology like hearing aids and cochlear implants more affordable. They also are placing an additional focus on improving the quality of open captioning in TV and movie programs. 
On Oct. 1, the recently established D.C. Office for the Deaf, Deafblind and Hard of Hearing was officially funded. The office was created by law last September and it will only now start receiving the $836,000 in funding from the D.C. City Council's FY2022 budget in order to establish new programs for the deaf, deafblind and hard of hearing communities, which the HLAA hopes will include some of their initiatives.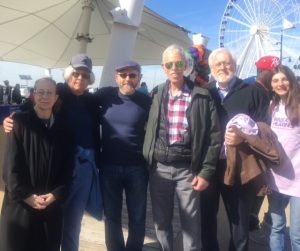 Ward 6 Councilmember Charles Allen has been an advocate for more inclusive legislation and policies for the deaf and those experiencing hearing loss. Allen and former at-large Council Member David Grosso introduced a second form of this legislation in 2018 and used the help of locals to put it together.            
Concerns with the office are that there won't be any distinction between the deaf, deafblind and hard of hearing communities. The Wash tried to contact Allen multiple times to talk about his efforts to establish and fund the Office of Deaf, Deafblind and Hard of Hearing, but received no response.
"It may seem like a small thing to make it plural rather than singular," Allen told the Dcist. "But it really mattered to members of the deaf, deafblind, and hard-of-hearing communities to say, 'This is a collection of communities, and don't treat it like a monolith. Really work hard to make sure the office understands that.'"
The HLAA, along with the Office for Deaf, Deafblind and Hard of Hearing, is determined to bring more awareness to the need for inclusive policies and better access to inclusive healthcare.
When asked if these policies will be put in place soon, Hamlin said she is very hopeful.
"I think there is some real chance here because we have been talking about it, everybody's been talking about it," Hamlin said. "It's not like some little thing nobody talks about…I feel like it's for the first time, in my professional life, that there is some possibility it will happen."
For more information about the HLAA's policy initiatives go to hlaadc.org.