Southeast has become one of the hottest places to live in D.C., and developers are looking to redesign its infrastructure to meet its needs.
A mobility study by the Capitol Riverfront BID narrows in on the Navy Yard neighborhood at the confluence of the Potomac and Anacostia rivers, naming it the fastest growing neighborhood in Washington D.C. over the past five years.
From baseball and soccer fans heading to Nationals Stadium and the newly renovated Audi Field to workers zipping to their nine to five jobs on electric scooters, planners say the current road conditions don't best support that growth.
Ted Jutras, the Vice President of Planning and Development for the Capitol Riverfront BID said fixing those transportation corridors is at the center of his work.
"We're building almost an entire new downtown along the waterfront south of the freeway," he said. "So, the traditional auto-oriented infrastructure that exists right now isn't going to work anymore."
The Capitol Riverfront Mobility Project aims to fix exactly that. It focuses on expanding accessibility along M Street SE: a mile and a half stretch in Southeast and a major corridor connecting the Navy Yard neighborhood and District Wharf.
Jutras said his team is working on two potential re-designs for M Street.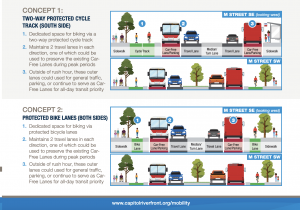 Both Capitol Riverfront BID designs repurpose the outside lanes of M Street into either one or two protected bike and bus lanes during rush hour while allowing them to be used for general traffic or parking outside of that time.
The designs are centered around the idea of "micromobility." The goal is to provide all residents and visitors to the Navy Yard neighborhood with safe and reliable modes of transportation that don't include driving a car.
Zack Baldwin, the Associate Director of Mobility, Data and Research at Southwest BID, said they hope by providing those accessible forms of micromobility, people will "choose bikes or scooters to pick up groceries or go to the doctor, instead of using a car."
These designs are being considered at the same time widespread development is happening all around M Street.
From new high rises just down the street at The Yards to the second phase of District Wharf under construction, D.C. residents like Conor Shaw tell The Wash,  "it's easier to put in bus and bike lanes when everything else is changing too."
Jutras placed getting ahead of the immense growth in the Navy Yard neighborhood and implementing a final design for M Street as a top priority.
"We want to make sure we're being proactive about planning for the future, not just waiting for all these things to arrive, and then massive congestion and then trying to work backwards to solve the problem" said Jutras.
Dr. Karthik Balasubramanian, who lives near M Street, thinks this project is long overdue.
"I think it's great…and it should have been done like 10 years ago," Balasubramanian said.
Dr. Balasubramanian is looking at the project from an equity standpoint. He stressed that increasing micromobility is crucial to achieving accessibility for everyone, and as it stands now, M Street does not support everyone's needs.
"You have to have a certain amount of money to have a car and if you don't have a car, this whole thing is not useful to you," he said.
Zack Baldwin said applying those designs on M Street will be a challenge, and dedicated enforcement will be important.
Jutras agreed and said a plan is still in the works, stating,
"All it takes is one or two UPS trucks or Uber's, Lyfts' causing people to not be able to see pedestrians crossing, and then all of a sudden, all those good intentions go out the window pretty quickly."
Once his team submits the final designs, Jutras said it is up to the District Department of Transportation and the Department and the Department of Public Works to enforce proper lane use.
"It's not a fully sufficient plan for mobility for all the growth that's coming…we're taking a small bite out of the apple," he said.
Celeste Newman, who lives on the Wharf, is hopeful that this project will set a standard of equitable accessibility across D.C.
"I just hope that as this continues, the city continues to focus on all the residents and having accessibility for everyone who lived here and will live here," she said.
Conor Shaw agreed and said M Street should be the first step to creating a whole system of accessible roadways.
Shaw said, "These are the fights we're gonna have to win if we want to create a real network that allows people to get everywhere, not just down one corridor."
But the mobility study doesn't just stop on M Street.
The other initiative under the study focuses on increasing connectivity to and from the area of Buzzard Point along the Southwest waterfront.
The two designs include micromobilty options like bikes and scooters, with the other option focusing on creating a direct metrorail line to Union Station.
Planning for both initiatives began two years ago, with the partners named as Capitol Riverfront Mobility BID, Southwest BID, DDOT and design consultant Kimley-Horn.
"Everyone is better off when you choose a bike, or when you choose a scooter when you choose to walk," Dr. Balasubramanian said.
Project coordinators are hoping to get more community feedback during outreach events in the coming weeks.
Developers will wrap up the second phase in the next few months, with formal design recommendations submitted to DDOT by the end of this year.