The reinstitution of a mask mandate and surging COVID-19 cases in the late summer has brought business to a standstill for many downtown D.C. establishments. Business was starting to tick back up in the early summer according to Investopedia's economic recovery tracker, but local businesses now say it has fallen flat.
Some offices had opened this summer on a voluntary basis with plans to reopen in September fully. Now, businesses have pushed back to November or January, and remain flexible with new plans.
Downtown D.C. is 75% office spaces. For Rick Ricci and Francesco Ottomanelli, co-owners of Barbers of St. James, not having those office spaces occupied has meant they are bringing in only 40% of normal business and have moved to a skeleton staff.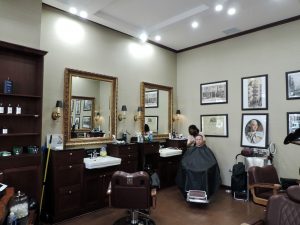 "I wish the people come back… it's not the same like before," Ottomanelli said.
Though business is down and stagnant, Ricci says the threat of closing his barbershop is minimal. He says in the downtown area it's most important to be able to negotiate rent in accordance with profits. Ricci has been able to negotiate rent with his landlord, Douglas Developments, and he said that is a primary reason he's been able and continues to be open.
"The landlord has got to play ball," Ricci said.
The restaurant industry has also been handicapped by the delay in return. Capitol City Brewing Company manager Dave Rowles said they are averaging about one-third of 2019 sales every day.
Regarding the mask mandate, he said, "It killed our lunches all over again."
Sherry Whitworth, Managing Director of Public Affairs and Advocacy for Fiscal Note, believes the mask mandate, instated by Mayor Bowser on July 29, drove those coming back to the office back out the door.  "The majority of people decided they didn't want to sit at the desk with their mask on," Whitworth told The Wash.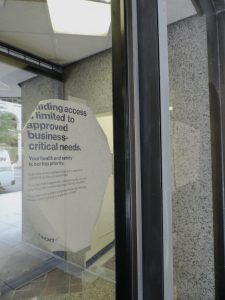 Whitworth is a D.C. worker with her office in the heart of downtown. She said she is only coming to the office three or four times a month because she lives an hour away and doesn't want to commute every day. Whitworth also said reopening plans for Fiscal Note will likely integrate working from home as an option for most employees, making the hope of a full recovery for local businesses unlikely.
Workers not being in the offices has changed other aspects of business as well, like hours of operation. Rainbow Cleaners owner Sung Lee said the workers who would drop their clothes off early before work or late after work aren't coming at those times anymore. She has changed her hours to focus on the afternoons, when people are now coming in.
Rowles and Lee indicated that they too will be able to stay open but are anxiously waiting for workers to come back.
"Everybody [in the] office is good for my business," Lee said with a smile on her face. She has also had to negotiate her rent with her landlord to stay open.
Rowles counts on office workers being back for lunches, and on guests at the Marriott and the Grand Hyatt, which are right across the street, and visitors at Capital One Arena.
As we move into fall, he's hoping that the capacities for hotels and the arena will increase and help with business.
"Things are trending up, but maybe not as quickly as we'd like."
Things certainly aren't as dire as they were in 2020, but businesses still are waiting for mask mandates and capacity limits to lift to bring back their core customer base. They may be waiting a few months longer.