Posters opposing President Donald Trump, posters endorsing President-elect Joe Biden, posters calling out Washington D.C. residents to vote for D.C. Council candidates, and posters advocating D.C. statehood have decorated streets and houses for the past months.
Wednesday is the deadline for candidates to remove their electoral posters according to Title 24 of the District of Columbia Municipal Regulations. 
"Most of ours are gone. There might be some straggler somewhere, but we've tried to remove as many of them as possible," Chander Jayaraman, candidate for D.C. Council-At-Large, said.
D.C. code states every candidate must remove the electoral posters they place around the city within 30 days after the election. 
"A sign, advertisement, or poster related to a specific event shall be removed no later than thirty (30) days following the event to which it is related," states the Board of Elections' Guidelines for Placing and Removing Political Posters on Public Spaces in the District of Columbia.
This was Jayaraman's first time running for a city-wide position, although he had previously run for an Advisory Neighborhood Commissioner (ANC) position. Jayaraman said that although the electoral poster rules are the same for ANC and D.C. Council, he did not "pay much attention to them" at that moment.
Other rules that candidates must follow: no adhesives that are difficult to remove, posters cannot be put up on trees, and must be securely placed on a lamppost to prevent them from falling because of the weather. Jayaraman told The Wash the city advised him posters could be displayed 100 days before the election.
"In August, we submitted our signatures to be placed on the ballot. And once you're confirmed that you are an eligible candidate to be on the ballot, you get a notice," Jayaraman said. "When you submit your signature, they give you a list of items," Jayaraman said, "amongst those is a flyer, a trifold flyer that tells you the rules about 'postering' and 'black carding.'"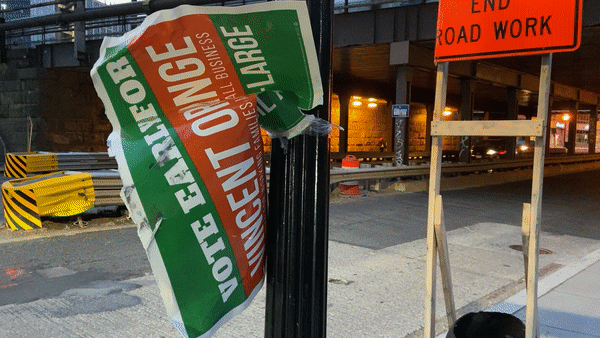 The Board of Elections does not oversee the placement and removal of posters. The District Department of Transportation oversees the process and the Department of Public Works (DPW) enforces the rules. 
The Wash reached out to DPW but received no reply.  The most recent information we could find was in a 2004 elections press release.  "DPW's SWEEP (Solid Waste Education and Enforcement Program) inspectors are responsible for issuing most of the Notices of Violation for poster infractions." 
Neighborhood removal
Jayaraman said, "It's always easier to just remove. Just yank 'em off." He said now that the election is over, many neighbors have taken the posters down and that some volunteers that helped him put the posters up cooperated with the removal.
Two residents of the NoMa community, interviewed by The Wash, said that although they do not mind the electoral posters, they think it is the candidate's job to take them down.
"They should do it [take the posters down.] Especially if the candidate is running to be a positive element in the city, then they should take responsibility whether or not they win," said Paul Klein, a NoMa resident
Klein thought that the posters should be taken down after the election "sometime in late November, early December." Klein said he has a Biden poster in his home and will remove it on January 20; this is the day Biden swears in as president. Klein did not display any posters of candidates running for the D.C. council.
On the other hand, Emily Jorgensen, 28, said that posters should be taken down by the end of the year. Jorgensen, who lives in an apartment complex in NoMa, said she has not taken down any posters and that it should be taken down by the candidate because "they are usually the ones who put them up."
Jorgensen favored Ed Lazere in the D.C. Council race and Joe Biden in the presidential election, but she did not put up any candidate posters in her home.