Isaac Smith, a man once tied to white supremacy, lost his race for Area Neighborhood Commissioner in the District's Ward 8, which is predominantly Black. Smith, who is white, faced immense opposition as he made his final campaign push Tuesday outside the Union Temple Baptist Church, a vote center.
 "Thank you for voting," said Richard Etienne Jr., Smith's campaign manager, who is Black, as voters left the center Tuesday. "Did we get your vote today?"
 "Absolutely not," one woman wearing a purple sweater responded as she exited the church and entered the nearby parking lot.
 Opponents said Smith shouldn't have run and didn't know the history of the community.
 "He has used a person of color to be his front person and cause arguments, while he sat silently and just watched on the sidelines," said Aiyi'nah Ford, an eighth generation Washingtonian, who also ran in the race and came in second place, winning 21% of the vote.
 Smith mostly stood by silently as Etienne Jr. defended his campaign.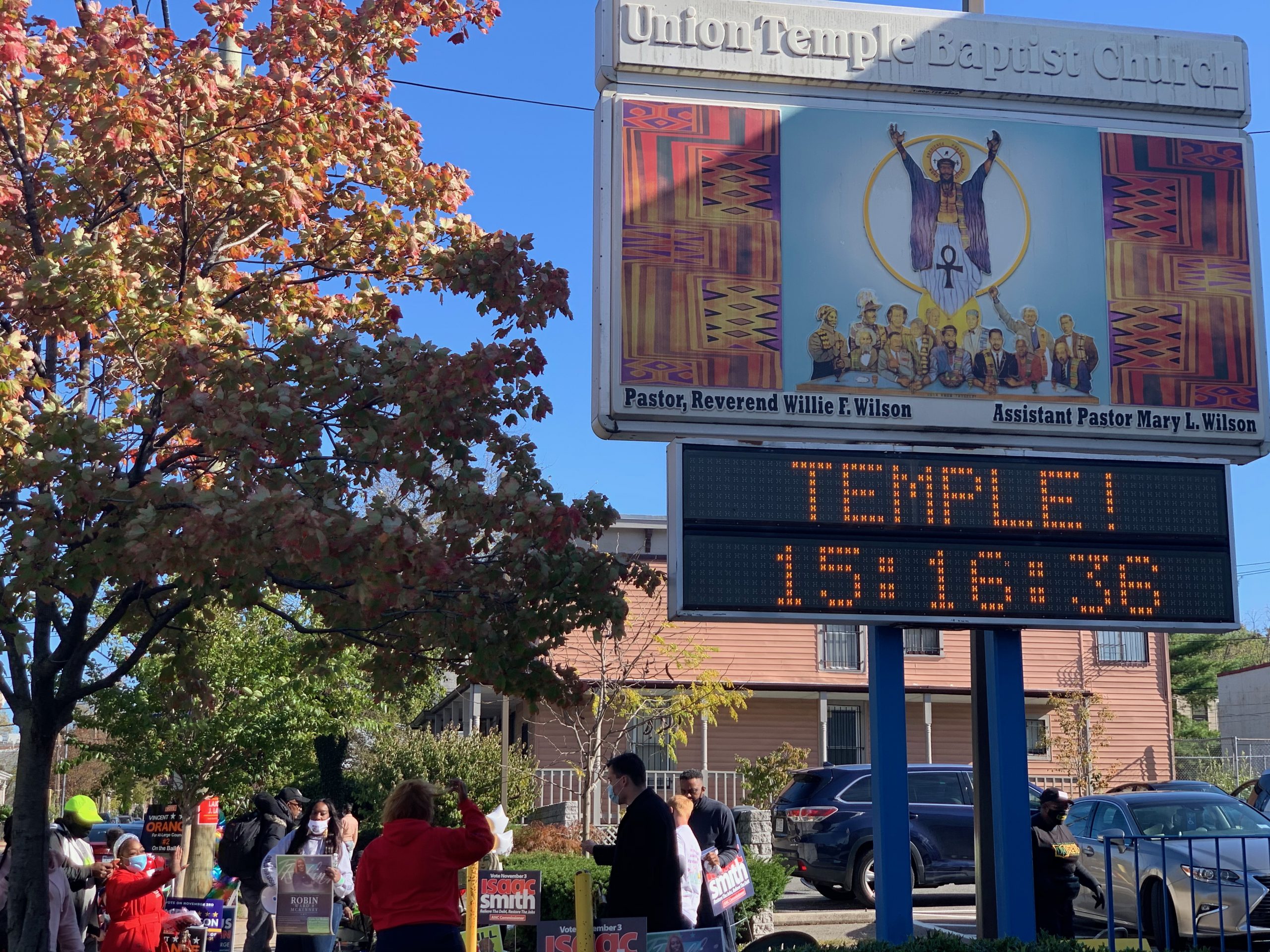 "I just have one frustration because there's been media involved in this race, and there's been more media about me, my party affiliation, and everything else than there was about the 16-year-old boy who got shot on my block a couple of nights ago," Smith said, referring to Kareem Palmer, who was shot early Sunday morning.
But opponents said he should talk to the mothers who lost children to gun violence. They said they hadn't seen him at candlelight vigils for those lost to gun violence and was noticeably uncomfortable speaking to residents, noting how much his campaign manager spoke Tuesday.
 "Believe me, I believe in change through all people and if you made a change, I'm proud of you finding out the truth," said Patrice LeSane, 45, the sister of Robin McKinney who won the race. "But if you really want to make a change, stand behind the candidates: Aiyi'nah, Robin McKinney. Stand behind one of those ladies and show that you real. That's how you show us that you're real, you can't come up here and just try to take over."
LeSane described her sister as a success story. McKinney was homeless with seven children at one point in her life, and is now a homeowner. LeSane said her sister intimately knows the struggles of living in Ward 8. McKinney ultimately won the race with 50% of the vote.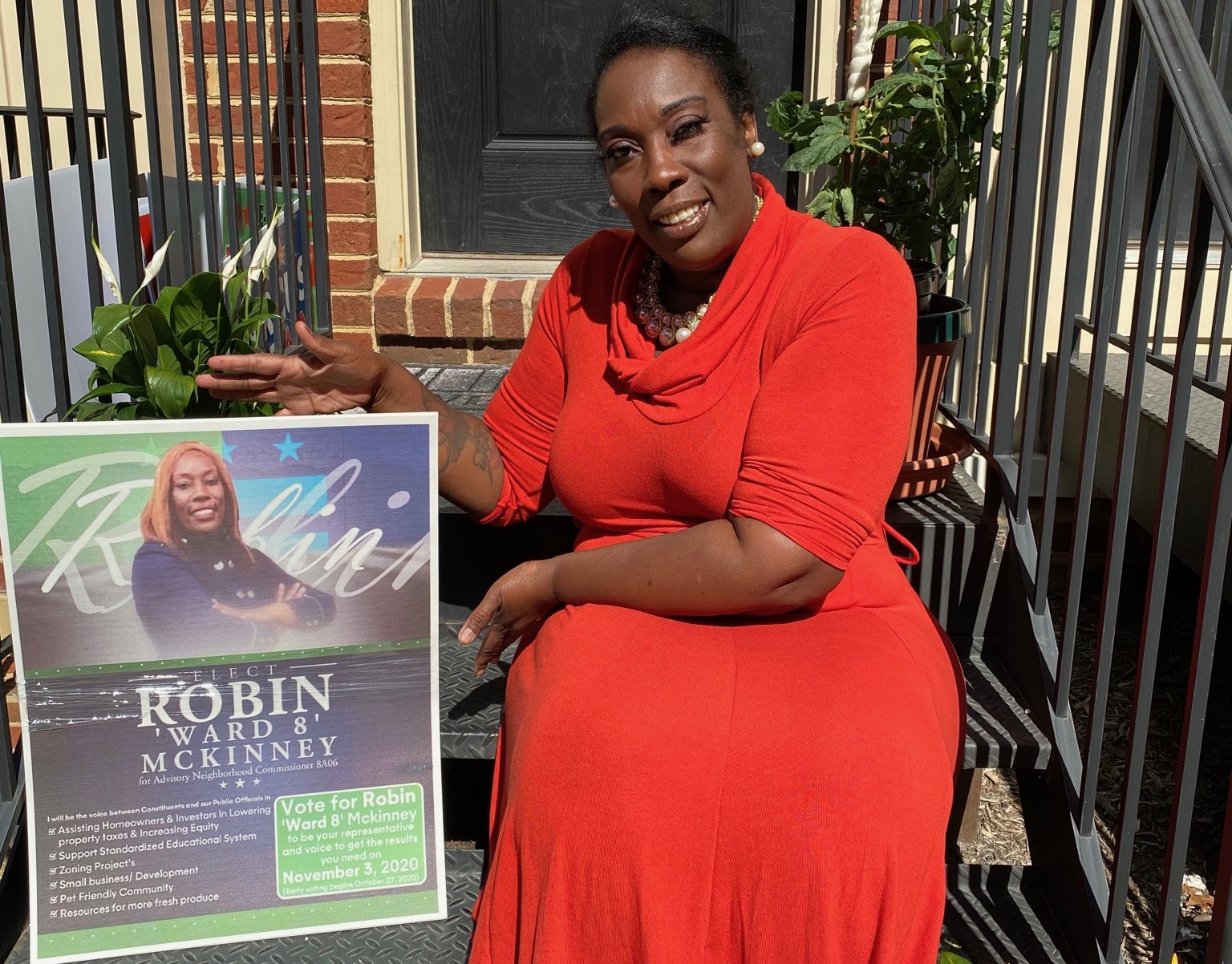 Smith worked in 2016 and 2017 with Jason Kessler to preserve the Robert E. Lee monument, which Charlottesville Vice Mayor Wes Bellamy called to be removed due to its ties to the Confederacy. Kessler went on to organize the Unite the Right white-nationalist rally which resulted in one woman dying and nineteen others getting injured. 
Smith distanced himself from Kessler once Kessler began making plans for the rally. "He's affiliated himself with people who are, to put it mildly, ideologically distasteful," Smith told Charlottesville's Daily Progress in June 2017. "I want nothing to do with that."
Despite his distancing, Black Lives Matter D.C. voiced concern by Smith's campaign in Ward 8. April Goggans, an organizer for the group, recently told DCist that Smith has "a nefarious agenda" and is "intentionally misleading folks about his identity and political plans."
Local activists were unsure whether residents actually knew about Smith's background. If they knew, they would not vote for him, Ward 8 Area Neighborhood Commissioner Charles Wilson told DCist.
Smith's campaign was a sign that Ward 8 is rapidly gentrifying, local activists said. D.C. used to be known as "Chocolate City" but most Black residents have been pushed to the outskirts of the city in Wards 5, 7 and 8 as housing has gotten more expensive. Officials are concerned that Black residents will soon be pushed out of those wards too. Ward 8 Councilmember Trayon White proposed legislation in 2019 that would prevent further displacement.
 "The harm that displacement and gentrification is having on our city is too great to be ignored," White said when he proposed the legislation. "People are being forced out of their communities and their neighborhoods." 
White, a D.C. Native won reelection, with 78% of the vote in Ward 8.