Americans went to bed Tuesday night realizing that public polling failed for the second presidential race in a row. By Wednesday morning, they still didn't know who was president. If they had depended on the polls, this was not supposed to be.
Prominent polls had Democrat Joe Biden winning the presidential race by a double-digit margin and congressional races leaning blue. But today, the presidential race is still too close to call. Democrats have lost seats in the House and they look likely to remain the minority in the Senate.
According to a Gallup report, trust in the media has already been on the decline in the country; experts say that decline is tied to polls. 
"Polls can be granted the aura of invincibility," because they appear as hard, fast numbers, said W. Joseph Campbell, a professor at American University and author of Lost in a Gallup: Polling Failure in U.S. Presidential Elections. 
However, "beneath the surface, there is a good deal of ambiguity; there's a good deal of art rather than science," he explained. 
But this doesn't make polls less valuable, he said. 
Campbell has studied the history of polling in American elections and concludes that while polls can provide important information for the democratic system and, more often than not, are accurate, they should be viewed with skepticism. 
"I think that polls should not be ignored or dismissed or rejected because they might be wrong," said Campbell. "I think polls should be treated warily. And that voters and polling audiences, if you will, should be a bit more skeptical about polling … Maybe they will be now."
Pollsters such as Republican strategist Frank Luntz has said the credibility of polling had been damaged beyond repair. He was quoted in Axios Wednesday, calling the political polling profession "done."
This sentiment is echoed by voters who feel duped by polling in back-to-back presidential elections. Zack Colston, 26, an actor living in Los Angeles, said that he was wary of polls after the 2016 election but had hoped the problem had been fixed. Now, he says he won't trust polls ever again.
 '''Fool me once, fool me twice, etc., etc.,'" Colston said.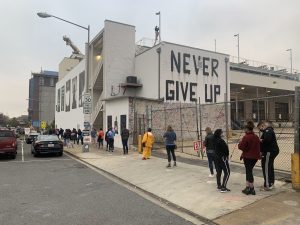 Polling failures can be traced back to the 1940s when polls incorrectly predicted Republican Thomas Dewey would beat Harry Truman in the 1948 election. And it is not the first time that polling for consecutive presidential elections has turned out to be wrong. However, the landscape of survey-taking has changed. 
"The new reality … is that voters are not waiting for a pollster to call them on landlines or even on cell phones," said David Colton, formerly executive editor at USA Today. "No, voters live on social media now; they exchange views online with friends in the comments sections on Facebook, and we are all suspicious of surveys, scams and phone calls for privacy and other reasons." 
Data seems to back this up. According to a 2019 study by the Pew Research Center, only 6% of people called in telephone surveys are willing to talk.
While some observers such as Colton believe that current polling methods aren't reflective of the 21st century, Campbell argues that the industry is too big to fail. Field survey research is a multi-billion dollar industry and election polling is only one small piece. 
He says not to count out the professionals just yet. 
"If polling were that fragile to be disrupted and doomed by a single national election, that would have happened long ago … It's a resilient industry. It's a big industry. It goes much beyond election polling," Campbell said.