Older voters are often seen as reliable during elections, from how they vote to the party they vote for. This election may shake things up. 
In 2016, 56% of voters were over the age of 50. They had the largest turnout of any demographic, were more likely to cast their ballots in person, and voted predominantly for Donald Trump.
But Baby Boom voters — born between 1946 and 1964 — and beyond, face a risk that wasn't present four years ago. 
 "Because of the virus, I decided to vote by mail," said Nancy Braley, 71, and a resident of Beverly, Massachusetts. She frequently votes early, she said, because she usually escapes New England winters in Florida.
But this year, the pandemic has kept her grounded. Even at home, she mailed in her ballot.
The New York Times reported Oct. 28 that 71.1 million ballots had already been cast in this election, 47.8 million of which were by mail. Concerns about the spread of COVID-19, particularly among older voters, deter many from voting in person on election day. 
Over 200,000 Americans have died from COVID-19 since the pandemic began, and according to data from the Centers for Disease Control and Prevention, 95% of those deaths were people 50 years and over.
Trying something new — the mail
Had mail-in voting not been an option, Braley said she would have braved her local polling station. Other seniors are turning to new methods of voting for the first time in their lives.
Carol Garbarino, 80, and a retired homemaker, is a Massachusetts native who has always voted in person. However, for the first time, she and her husband voted by mail. Their polling station is at a school, Garbarino explained; they were worried about "germs."  
Massachusetts is one of at least 30 states that have made voting more accessible for residents who don't feel comfortable going out on election day. Registered voters were sent applications for absentee ballots, which could be deposited in a  dropbox returned by mail with no postage charge. So far, of the roughly 4.7 million registered voters in the state, about 1.2 million have already voted absentee, according to U.S. Elections Project data reported as of Oct. 28. 
However, like Braley, Garbarino said that if mail-in ballots weren't accessible she would have still found a way to vote in this election even if it meant voting in person. 
Issues propel voters to polls
Issues like health care, social security and getting the virus under control are among Garbarino's top concerns. She is not alone. An Oct. 1 NBC News/WSJ Poll found that Biden is leading Trump by 27 points among senior voters, a group the President won in 2016. 
In campaign ads, both Biden and Trump have claimed the other will make cuts to social security, a program many seniors depend on for financial security. 
What's more, the Affordable Care Act goes before the Supreme Court a week after elections. Trump has made no secret of his intent to strike down the Obama-era act, which could leave 133 million Americans with pre-existing conditions uninsured and unable to qualify for affordable health insurance, according to a 2017 government brief. Trump has said he will replace the ACA with Trumpcare but has yet to release a plan. 
 Lynn C. French, 74, is a District of Columbia native with a pre-existing condition — kidney disease. As a Democratic committeewoman, she said she usually votes by mail because she's typically working in polling centers on election day. This year, she voted by dropbox. "My daughter has me under lock and key in my house," French said. 
Voting by mail "iffy"
Dan Lanning, 68, of McKinney, Texas, a project manager at an energy economics consulting firm, voted last week in person. 
"Voting by mail is just too iffy for everybody," Lanning said. He didn't want to wait in the long lines, which he predicts will be prevalent on election day. 
"We knew who we were going to vote for," Lanning said, speaking for him and his wife. "We'd already made our decision. And there wasn't going to be anything that's going to be coming out that's going to be game-changing, either way – whether it's positive or negative," he said.
"There wasn't going to be anything that's going to be changing our mind on it. Waiting until the day of the election … there's too many things that could get in the way of doing that." 
Sheila Reid, a 73-year-old registered voter in the District, said this is the first year she isn't voting in person. Instead, she took her ballot to her local dropbox. Her decision has more to do with her anxiety about the election than fear of getting the virus.
For Reid, the president's "cavalier" and "irresponsible" handling of the pandemic and the "blatant, overt racism" she sees in society are driving her vote.
"Every vote is important," she said. "I think this is one of the most important votes we've ever had in American history."
Mark Anderson, the executive director of We Are Family, echoed that idea. "It feels like, and I think it is truly a crossroads election. The direction of our country is on the ballot." 
A decisive moment
We Are Family is a DC-based organization that supports "inner-city" seniors, particularly working with non-white, low-income communities, which Anderson said have been hit hardest by the pandemic. For the seniors and staff's safety, the group is not driving residents to the polls on election day as usual. Instead, they are offering help with filling out mail-in ballots and finding local drop boxes. 
Anderson says the election is "immensely important" to his clients.
"Most of them are African American," Anderson said. "Some may have grown up in the south under the lash of legal oppression. They persisted through all of this, and this moment in American history carries some of the echoes of the darkest period of our time as a country – things that these seniors wish had been left in the past but clearly have not been. And now, for them, I think they see it as a decisive moment."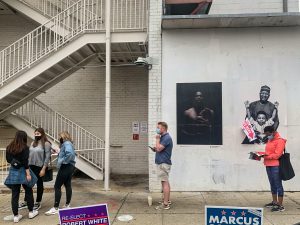 French, who was part of the civil rights movement, still has pictures from another important election to her: Barack Obama's first presidential election. She described the lines at her local polling station, where her daughter had once attended school, zigzagging through the parking lot and up and down Kenyon Street and Georgia Avenue. 
"It was a celebration," she said. "We couldn't believe we were voting for a Black man for president." This election has a similar feeling of importance she explained: "Just as with Obama, it was a point of honor; with this, it's like, 'we've got to get Donald Trump off our neck.'"   
French is hopeful that people will turn out to vote in this election: "People are saying they're going to vote like their life depends on it…'Heck yeah!'"