The Dance Institute of Washington, a pre-professional dance school, is only a couple of weeks into their fall term. Like most after-school programs in the District of Columbia, their classes are currently virtual, a tricky transition to navigate. However, unlike many programs that have seen substantial drops in enrollment, DIW is starting the year with nearly a full roster. They have 70 students enrolled this fall, just five students short of their school capacity, according to Carla Camargo, marketing and communication manager at DIW. 
"We're doing pretty good, even though everything is virtual," Camargo said. She believes their rapid response to making online learning accessible to all students contributed to their great enrollment numbers this fall.
Even though students are attending classes virtually, DIW has not relaxed its expectations. Dancers must join their virtual-classes on time, as the school maintains its rigid attendance policy. Since teachers can't walk around their students, making adjustments as they go, instead, they make an effort to call out students by name, using verbalized technique corrections to engage kids and give them the feeling of being together. To ensure students are getting quality technique-training, an administrator monitors each Zoom class, so there's always a back-up to the teacher. 
Camargo admits that virtual classes have their challenges, especially for young children whose attention spans are already small. But overall, most students who have trained with them already have the necessary foundational focus. It also helps that "our students are at DIW because they want to be here," Camargo said. 
COVID has presented additional dance costs, a struggle for some families. Practicing dance safely and effectively requires an adequately fitted space, such as wood floors and a ballet barre or safe alternative, which some families don't have readily available. Portable dance floors and ballet barres typically cost over $100 each, and while household items like a chair can often be substituted, Renee Davis-Marcel, a DIW parent, said they're not very supportive.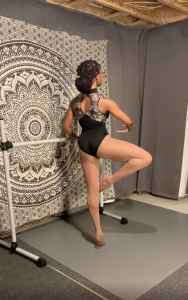 "The big problem now is that we don't have nearly the resources we had last year, as far as cost, and costume fees, and now we have to buy equipment for the household," Marcel said. She feels the pressure to get her son a ballet barre, both for safety reasons and to motivate him, something that's been difficult without the stimulation and support of classmates. Still, she's concerned about taking on the financial burden while she is already struggling due to the economic effects of COVID.
"The resources that we had as a family, as far as putting money towards dance education during a pandemic, it gets harder and harder to justify," Marcel said. 
Since the pandemic started, Marcel's son has been able to keep his scholarship, which she said she appreciates.
More than 80% of DIW students are on scholarship or financial aid, according to William Keiser, public relations coordinator at DIW. Students either receive merit-based scholarships or need-based financial aid. Families are always welcome to reapply for financial assistance if personal circumstances change, and they need the amount adjusted to continue the program.
"That is our priority, to make it affordable," Camargo said of the classes.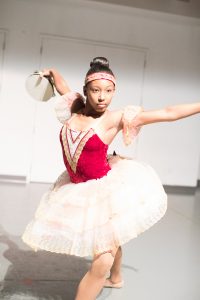 Michael, Marcel's son, is 11 and has been a student at DIW for about five years. He also has autism, which often manifests as severe anxiety. Michael began with DIW's summer camp but joined the dance classes last year. When he first started, it would sometimes take Marcel half an hour to get him out of the car; a year later, she can see the positive impact dance has had on him, she said.
"He's so much more confident. He was able to transfer the skills he learned, in terms of performance and bodywork, to his schoolwork," Marcel stated.
She credits dance, and specifically DIW, with that change in her son. "They never stopped encouraging us to take classes," Marcel said. 
While funding for nonprofits, especially related to the arts, is often a concern for organizations, DIW appears to be safe for the moment. They were proactive in their fundraising and received COVID-19 relief grants, said Jared Fischer, the development manager at DIW. While they received fewer grants in 2020, they ended up with around $400,000 more in funding than they received the previous year. Individual donations are also slated to be higher than last year, Fischer said, though the exact amount is still to be determined. 
However, nothing is guaranteed for next year, Fischer said. Grant awards and their amounts can change due to budget cuts, shifting priorities or competition; and individual donors could have a change of heart or wallet, particularly if economic fallout from the pandemic continues or worsens.
As a mom who sees the benefits her son gets from DIW, Marcel worries about the school's ability to fundraise during the pandemic. In the past, she said, she's helped with funding campaigns.
"As a parent of a family with autism and developmental disability, I have to be more of an advocate for my own kids too, so that does translate to political activism in terms of having the city continue to fund our school and after school programming…You should have more money going into the arts. The arts are what save us."
DIW closed its physical doors on March 13 in response to the swelling pandemic. Within two weeks, Mayor Muriel Bowser issued a stay-at-home order, shutting down all non-essential businesses; meanwhile, DIW was already shifting to full virtual learning. As a nonprofit working primarily with underrepresented kids, they faced special challenges with getting students online, said Camargo.
Lack of access to internet and streaming devices was the first barrier the school had to overcome, and they did so by issuing hotspots and tablets to 30% of their students, according to a COVID response email from DIW. 
"Now we're also worrying about not just the technical disparity, but also, are our kids eating? Do they even have the energy that they need to dance?… We had to figure out all of those gaps within our community," Camargo explained.
Even before COVID raged, DIW offered programs beyond dance, aimed at creating a diverse and inclusive community, and promoting economic equity. The Dance Institute claims it takes a holistic approach to training. This encapsulates mental and physical health by providing students with meals, nutritionists, and physical therapists. Mentoring, counseling and academic support are also offered. Camargo made clear that these programs are now more important to the community than ever.
 Columbia Heights has the highest rate of COVID-19 infections of any DC neighborhood, according to state government data. It's also a neighborhood that is nearly 50% Black, the demographic most at risk for the virus. As a Black-led dance school, catering to primarily Black students in the neighborhood, DIW is playing an essential role in the community at this time.
DIW is planning to reopen the studio to students in late October; however, Camargo said she is confident they will only take such a measure if it is safe to do so. 
"I know that DIW is probably one of the few [dance studios] that is still closed because we really want to make sure, being that we're in Columbia Heights, which is the hardest hit sector where COVID was more prominent…we have really been taking precautions and making sure that when we open we're doing it right. We're committed to keeping everyone safe," Camargo said. 
In the meantime, the school is preparing for a virtual youth talent show on Nov 1, part of their continued community engagement. They are also due to participate in GivingTuesday, a yearly fundraiser on Dec 1, which they raised $5,000 from last year. 
"Typically, when you think of a dance studio, you think of a girl ballerina," Marcel stated. "He's [Michael] also a part of the community, too. I hope that we can keep that frame there: that dance is not only for the girls, but for guys too. A story about dancers doesn't typically have an 11-year-old with autism who's a gamer and likes electronics and hip-hop music, but that's part of it too".