Police are looking for the gunman involved in a non-lethal shooting in Park View around noon today. An adult male was shot in the leg outside his home in the 500 block of Columbia Rd NW, according to police.
 The victim, Bernard Langley, was transported to a local hospital where he is undergoing surgery, according to Chastity Nelson, his sister-in-law. Nelson said the bullet went through Langley's leg but that he's going to be okay.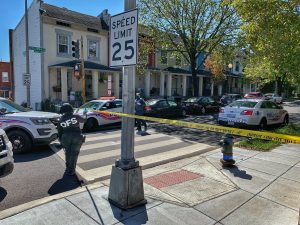 Gunshots rang out on the crisp, sunny day in the residential neighborhood that abuts McMillan Reservoir, and Nelson was there to hear them. She said she was in the basement of the house at the time, her sister doing her daughter's hair when she heard three shots and ran outside. Langley was coming up the steps saying he'd just been shot, Nelson recounted. 
 "It had to have been a random shooting," Nelson said. "He doesn't have any enemies. He cuts grass for everyone around here; everybody knows him. They've lived in this house for about 13 years," she continued.
The crime scene closed down a block of Columbia Rd NW as officers and police dogs combed the area for evidence, causing a traffic jam on Michigan Ave NW and Warder St NW. The occasional car horn and dogs barking were the only noises that punctuated the otherwise quiet Saturday afternoon in the area.
 The investigation is still ongoing. Police have described the suspect, asking the public to be on the lookout for a Black male, around 20-25 years old, with long dreadlocks and wearing a green jacket and dark-colored pants. If you have any information, you are encouraged to call or text the 3rd District police department at 202-727-9099.
3D is on the scene of a confirmed shooting at 500 Block of Columbia RD NW . Lookout is for a B/M, 5'10, 20-25yrs of age, medium complexion with long dreads, Green Jacket and dark color Pants.
Have info? Call (202) 727-9099/text 50411

— DC Police Department (@DCPoliceDept) October 3, 2020