Arlington citizens can win prizes and help the environment if they take the pledge not to drive their car today, Sept. 22, during Car Free Day, hosted by Arlington Transportation Partners.
Car Free Day is an annual event to encourage sustainable travel methods and reduce harmful greenhouse gas emissions and traffic congestion, according to the event's website. By taking the pledge, citizens are automatically entered into a raffle for a chance to win prizes. Prizes include grocery store gift cards, a Capital Bikeshare membership, a $25 SmartTrip card and gift cards to local restaurants.
As of Sept. 21, the majority of the pledges said teleworking would be their mode of transportation rather than a car. But Jim Larsen, the Bureau Chief at Arlington County Commuter Services, said transit and metro are usually the most popular in previous years.
"Arlington has been a leader in getting people not to drive their car," Larsen said. He said as climate change continues to become a global problem, Arlington has only continued to reduce its emissions and encourage eco-friendly modes of travel.

While the Department of Environmental Services does not have recent emissions data, it has maintained a trend of reducing emissions even as the population goes up, according to a 2012 Community Greenhouse Gas Inventory for Arlington, VA.
Larsen also provided a survey by MobilityLab with data on Arlington commuters from 2019. According to the survey, Arlington residents:
used a bus or train for 40% of their weekly commute trips, compared to the regional average of 24%;
used a car alone for 41% of their trips, below the 57% rate for all regional employees;
biked or walked for 8% of weekly trips, compared to 3% for regional employees.
Since this data is from 2019, it does not reflect the shift away from public transport and toward telework. Matt, 34, who didn't want to provide a last name, is one of Arlington's teleworkers who would have taken transit otherwise.
"I would be taking the metro under normal circumstances because I work in downtown D.C.," he said, "but working from home, I don't use any transit most days."
Larsen said Car Free Day provides an opportunity to advertise that some public transit, specifically the metro, is available, and safe, for people to ride.
"We push the fact that things are washed daily and substantially sanitized," he said. "For other transit, we're hoping for January. We're hoping sooner than that, but the question still becomes: how do we get people back on?"
Larsen said he worries that the pandemic has driven people away from more sustainable transportation, such as transit and carpooling. But Sarah, 29, who didn't want to provide a last name, said the pandemic actually made it easier for her to drive her car less because of telework options, which she said is her way of reducing emissions.
"I feel like we're driving a lot less in general," she said. "We've spent way less on gas. One tank of gas a month, mainly."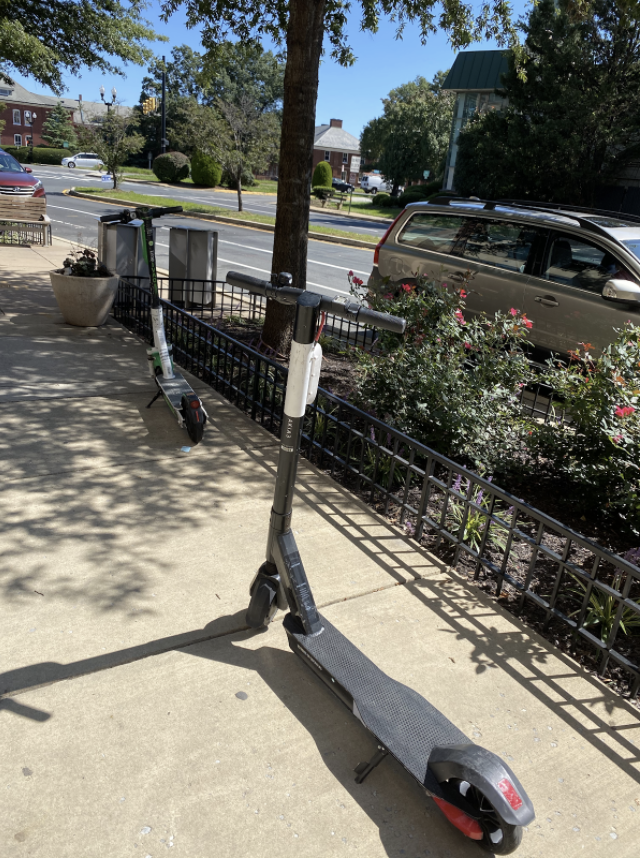 For those who do leave their houses, WMATA is working to make riding the metro safe. Some may still be afraid, but Larsen said Arlington has other options beside taking a car. He specifically mentioned BikeArlington, a bike -education and -encouragement program, and Capital Bikeshare, a bike-share service where if you buy a pass, you can use any of the bikes on sidewalks to get around Arlington.
"We always try to be innovative, and we have been innovative," Larsen said. "Without our programs, there would be 45,000 cars on the road."