Politically, former ambassador to the United Nations Nikki Haley held a relatively low profile after leaving left her two-year cabinet position in the Trump administration late last year. She returned to her home state of South Carolina, joined the board of a major company and wrote an autobiography.
The former ambassador has tread a fine line since her departure, championing the Trump administration even as both parties scramble to control the narrative surrounding the impeachment inquiry.
"I think, again, her long goal is to rebuild the Republican Party as a Big Tent party which is not alienating to minority groups," said Geoffrey Kabaservice, now director of Political Studies at moderate think tank the Niskanen Center. Kabaservice published a 2012 history on the decline of moderates within the party.
In Haley's book, she accuses former Secretary of State Rex Tillerson and former White House Chief of Staff John Kelly of attempting to thwart Trump's agenda in office. In doing so, she staked a clear claim in Trump's camp, even as she has been mildly critical of some of his policies and behavior.
Brushed off with a laugh
Her book tour brought her to Washington D.C. – and the maelstrom of politics at the moment – on Nov. 14 when she spoke in front of an audience of students at George Washington University to discuss her memoir, With All Due Respect. She made it local by saying that her daughter is looking at attending the university.
A group of excited students speculated that the ambassador would have to be pushed on the topic of impeachment.
Outside the auditorium, another group of around 35 campus activists gathered to protest Haley's policies as UN ambassador and position on the Boeing Board of Directors, chanting phrases like "Nikki, Nikki, can't you see, coups don't bring democracy." The student group accused Haley of profiting off of Boeing's military contracts and leveraging humanitarian aid against other nations. Police stood behind the protestors while late attendees filtered in.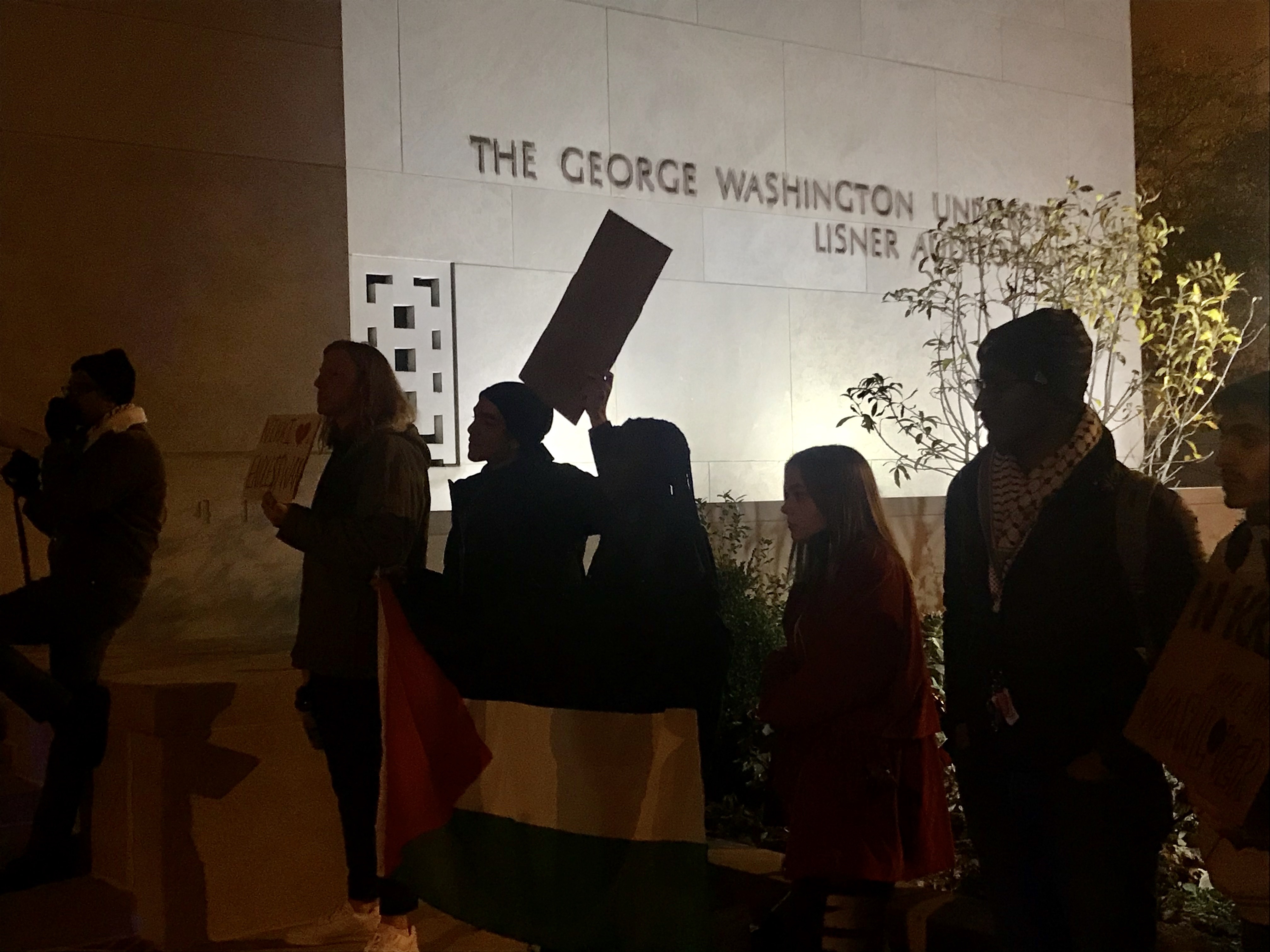 Haley made it clear that her road to the UN was wholly unconventional. Initially, the former state legislator and governor endorsed Sen. Marco Rubio, R-Fla., during the 2016 Republican primaries. Trump tweeted during the primary that South Carolinians are embarrassed by Haley.
Now Haley says that her relationship with the president is one of respect. "I knew that if you kicked him, he was gonna holler. He knew if he pushed me, I was gonna push back," she said at the George Washington University event.
The president and his former chief of staff, Reince Preibus, attempted to appoint Haley as Secretary of State at the start of his term. During that initial meeting, Trump welcomed her with one phrase, she said:
"Well, I guess your guy didn't win."
Haley's on-stage conversation with Sen. Jodi Ersnt, R-Iowa, focused on her achievements as a conservative woman. The former governor talked about battling racism as the young daughter of Indian immigrants in the rural South.
But the conversation kept creeping back to Trump.
Haley refused to denounce the president during her appearance, despite pushing back on some of his antics. She discussed some of Trump's most memorable moments with ease.
Prior to the president's UN debut in 2017, the ambassador urged Trump to treat his address like "church," reminding him that the audience was legions away from his past campaign rallies. Still, Trump publicly called North Korean leader Kim Jong-un "Little Rocket Man" before the delegation.
She laughed recounting the president's reply: "I tweeted it out this morning and it killed with my base."
This answer was typical of the tenor of the event. Haley repeatedly brought up policy differences with the president and differences in political style, but often brushed them off with a laugh or a joke.
Criticizes, but never condemns
Looming over everything were impeachment hearings, which had kicked off the day before, less than three miles from the university. The hearings by the House of Representatives are over Trump's conduct involving military aid to Ukraine.
But, neither woman on stage uttered the word "impeachment."
Ernst did not ask about impeachment and questions that had been selected from the audience did not touch on the issue, instead focusing on Haley's views on bipartisanship.
In recent weeks, however, Haley has been repeatedly questioned about impeachment during television appearances. She has repeatedly condemned the impeachment investigation, even though she said that Trump's call to Zelensky was "not a good practice."
"The thing that bothers me about the impeachment is we're less than a year away from an election. Let the people decide," said Haley to Fox News.
Despite her skepticism about impeachment, she has called for the protection of the anonymous whistleblower who initially raised complaints. Haley emphasized that the whistleblower must be protected to CNN after Trump called for the informant's identity to be revealed.
This is characteristic of Haley's stance. She criticizes, but never condemns his actions.
"We're less than a year away from an election. Let the people decide."
Kabaservice, the political studies expert on moderates and Republicans, said that Haley is attempting to appease both camps of the Republican party during a fractious time for the GOP. He speculated that Haley is positioning herself for a potential presidential run in 2024, a notion that has been greatly speculated.
Haley spoke to the demographic divides during her event, proclaiming that the party must do a better job of welcoming women while also condemning Democrats for their sharp criticisms of conservative women, like Rep. Elise Stefanik, R-N.Y.
For the former ambassador, these critiques signal the end of civility in American politics, a notion espoused by moderate politicians like Rep. Will Hurd, R-Texas, who announced he would not seek re-election earlier in 2019.
Trump has been widely criticized for hurting notions of civility in politics, routinely referring to rivals as "fake" or "nut jobs."
Kabaservice claims that Haley never been moderate, but instead a "pragmatic conservative."
"One way or another Donald Trump is going to be out of the White House by 2024. She wants to throw her hat in for the next race," said Kabaservice. "For that, she needs to do two things: to not alienate herself from Trump's base [and] to be prepaired for a backlash against the Republican Party."