Summer Bailey, 56, was first in line at 5 a.m. Tuesday at the Longworth House Building, determined to witness history, just like her mother with Watergate, the scandal that led to U.S. President Richard Nixon's resignation in 1974. "Watergate was a huge part of my mom's political transformation so here I am decades later. This is history and I can't just sit back and watch what's happening to my country."
As the House impeachment hearings, part of an inquiry into allegations that U.S. President Donald Trump tied military aid to Ukraine to the investigation of a political rival, entered their second week, they continued to captivate a broad audience, drawing some 13 million television viewers—almost the same as the average for this year's World Series. But for some onlookers, C-SPAN offered too distant a view.
An intrepid few woke in the early hours to line up for a spot in the public hearing room. Most of those drawn to observe said they were motivated less by partisan politics than by the desire to witness what they saw as history in the making.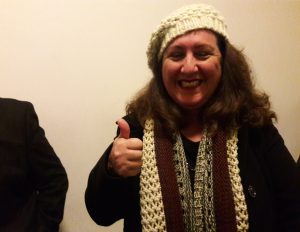 "I have always been a political junkie," said Bailey, a writer who traveled from California to attend the impeachment hearings and stay at her daughter's D.C. apartment. "I feel like every opportunity I have to make a difference, whether through phone calls, letters to officials or protests, is representing Americans who want truth and justice to win out." Bailey said she is "nonpartisan."
Bailey passed the time snapping iPhone photos and videos and chatting with the people in line behind her.
Uber to the hearing
Many people traveled from all over including California, Alaska and even Australia to hear the testimony from Lt. Col. Alexander Vindman, a leading Ukraine expert on the National Security Council, and Jennifer Williams, Vice President Mike Pence's special adviser for European and Russian affairs.
Both officials listened to the call between Trump and Ukrainian President Voloydymyr Zelensky, which figures at the center of the impeachment inquiry. Trump asked the Ukrainian president to investigate Hunter Biden, the son of political rival, former U.S. Vice President Joe Biden, according to a rough transcript of the call.
"I read the newspapers but it's better to see it in person and see the reactions."
Behind Bailey was Alaska native Pat Walsh, 68, an artist who spontaneously ordered an Uber the night before to attend the hearing.
"I'm curious to see the hearing in action and how the members of the House conduct themselves," Walsh said. "I read the newspapers but it's better to see it in person and see the reactions."
Angel Vargas, 39, a full-time student and social worker at the University of Southern California, marked a spot in line at 6:30 a.m. He took a week-long leave of absence with no pay to attend his first hearing.
Like others The Wash spoke with in line, Vargas supported the impeachment inquiry, which he saw as a way to hold the president accountable for corruption.
"There is a lot going on that the president and his staff know that's toxic, immoral and borderline illegal," Vargas said. "I came here this morning because I want what's best for the country."
Gen-Z comes to the hearing
Three people away, a legal consultant from Silver Spring, Maryland, adjusted his suit jacket and tapped his foot as he waited to walk in. Jared Hoffman, 24, doesn't expect to come out of an "earth-shattering" hearing but hoped more evidence could support the inquiry.
"I think there is a proportion of people who aren't informed and don't follow politics or pay attention, but there are many who are simply unwilling to change their mind regardless of evidence," Hoffman said.
An hour and a half before the hearing, three teenagers joined the line, laughing and talking. All first-year undergraduates from Catholic University, Andres Varone, Connor Martin and Katie Paiva, commented on how special it was to be one of the many young adults in a sea of older adults in line. The group spanned the political spectrum with a Democrat, a Republican, and an independent.
Varone, a business major who identified himself as Republican, said it was important to know the truth behind the charge.
"I try to inform myself as much as possible," he said.
Martin, a political and economics major who identified as a "Democrat and classical liberal," said that checks and balances were important for democracy and that he hoped people would pay attention to the hearing. His friend Paiva, a media and communications major who called herself an independent said, "No matter the outcome of this hearing it will go down in history and to be able to say I was in the room is a very powerful moment."
The atmosphere was one filled with anticipation. The line started off small until about 8 a.m. when a rush of people came in. Many people came alone but quickly found people in line with whom they could speculate on what would happen in the upcoming hearing.
At 9:00 a.m. the doors opened.