A series of tire thefts reported from cars parked on Brookland's residential streets has residents looking for answers for how it can be prevented.
Last week, Bill Skinner said that he parked his car on the street outside of his home as he always does and woke up the next morning with all four of its tires removed. He shared the photo with his neighbors in the Brookland Facebook group, where many others shared stories of tire theft that happened to them or their neighbors.
"Keep an extra eye out and be careful," Skinner cautioned his neighbors in the post.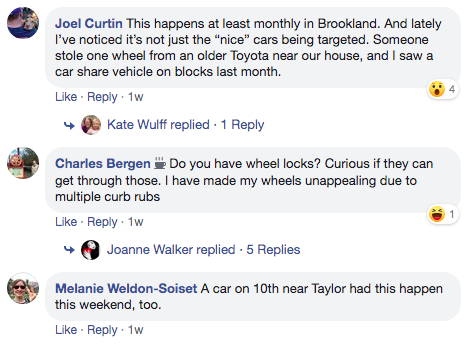 Clinton C. Johnson, a Brookland resident, said that the Metropolitan Police is not prioritizing the issue enough, the way they would with other cases of crime.
"It seems like this would be a very solvable case if they were doing any legwork," Johnson said. "It has to be a team of people doing the same crime over and over again, not different people coincidentally."
Brian Stevens says that he has seen tires being stolen from his neighbor's cars on his street numerous times in the middle of the night. He says he has videos from several of the incidents.
"I have contacted the police every time and they have never followed up," Stevens said.
Lauren Wiesner, a longtime resident of the neighborhood, told The Wash that she had seen it happen several times in recent months, though she was not able to identify who was committing the crimes.
"They've all happened by 20th Street," Wiesner said. "It is scary."
This was echoed by resident Michelle Tonelli. She told The Wash she'd seen a number of parked cars without rims or tires. However, she does not think it is unique to Brookland.
"I have no idea how it compares to other neighborhoods, but it seems like a citywide crime," Tonelli said.
K.T. Stevenson said that he has observed tire thefts for several years in the neighborhood and that the issue is only getting worse. Last week, he saw tire burglars on his street late at night.
"It is one of my worst fears," Stevenson said.
Recent Catholic University graduate, Julia Bergamini, said that the police should not trivialize the crime and should take the instances of tire theft more seriously, as they have impacted many residents.
"Treating any crime as 'general' is tolerating it," Bergamini said. "It only allows the deviancy to grow and worsen."
Tips from the police
The Wash requested Brookland tire theft numbers and statistics from the Fifth Ward of the DC Metro Police. The department said they don't track tire thefts specifically, as they fall under "general" theft or auto vandalism, which are both large problems. 
Officer Jules Lucas told The Wash that while he could not provide records for tire theft in Brookland, his department takes each case very seriously. He said that buying a bolt lock for tire rims at a car repair shop "like AutoZone" is the main precautionary method they recommend to residents in order to prevent tire theft.
"We recommend this because once you buy the lock, you can feel more assured that your tires will not be stolen," Officer Lucas said.
He also cautioned residents against leaving any valuable items visible inside of their cars as it will make them more susceptible to crimes like tire theft or break-ins. If a resident hears any strange noises in the middle of the night and does not feel safe going outside, he said, they should call the police department as they will then patrol their street.
"Usually, that scares them away," Officer Lucas said.