Proudly wearing his Nationals baseball cap, Washington native and American University alumnus, Eric Weinstein, sat smiling in a sea of red along Constitution Avenue with his wife. Both were excitedly waiting to see their World Series winning team roll by in a scheduled parade. Weinstein told The Wash that beating the Houston Astros and bringing a world championship back to DC meant everything to him and that the team worked tirelessly for this title.
"This was just a remarkable run by this team they fought hard till the very end," Weinstein said. 
Weinstein said he'd been a faithful fan since he was a child cheering for DC's previous professional baseball team, the Senators, which left for Minnesota in 1960. 
 "I am 71-years-old, and I was at the last Senator's game yelling 'Clint Courtney!' as I was leaving the stadium!" Eric Weinsten said.
Thousands of fans, like Weinstein, took over the metropolitan District area to celebrate the Nationals World series championship on Saturday. A title that the city hasn't seen in 86 years. From the Metro to the streets, the crowds came with energy and excitement to celebrate the big event.
The parade started with a live band that played "Baby Shark" a children's song that resonates with all age groups. Mothers, fathers, and grandparents alike, smiled and sang the lyrics, interchanging "baby" for mommy, daddy, and grandpa when singing their parts. The song became the unofficial celebration song after one of its outfielders chose the tune to be played before he came up to bat.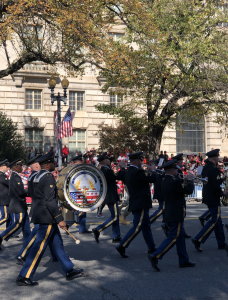 As police escorts accompanied the marching band, the true action began. Red busses with the words "Nationals World Series Champions" written across them made their way down Constitution Avenue.
As each bus made their way through the parade, kids quickly pointed out their favorite players to their parents. The chants grew louder and louder as Juan Soto made his way down waving to the kids. 
The Wash spoke with seven-year-olds, Gavin Haeghabart and Marcus Ryan. They told us just how excited they were that the Nats won the World Series.
"My teacher said she is going to play "We are the champions" (by the rock band Queen) three times on the loudspeaker on Monday if we won," Ryan said.
While his best friend Gavin was in simple shock the Nats pulled off the win.
"I just can't believe we are World Series champions," Haeghabart said.
The boys stood there on 14th and Constitution holding posters that said "finished the fight" in Nats jerseys with big smiles witnessing a piece of baseball history.
As The Wash made our way through red balloons and red pom-poms, we spoke to 27-year-old fan, Nicole Carrington, who attended game 5 and was always hopeful about winning it all this year.
"I just had this gut feeling though that somehow we would pull it off when we went to Houston. We were a wild card; I thought no way we are going to let the Astros have this," Carrington said.
Carrington is originally from New York, but has been a Nationals fan for years since her mother is from the D-C area.
The excitement could be felt in the streets. Chanting "Let's go Nats!", fans held up noisemakers and blew into horns. National fans wanted to be heard.
Bob and Barbara Long, who are parents to college students and Washington natives, sat on the side of the parade with red balloons as they cheered on the Nats.
"It was just such a great underdog rise to the top story," Bob Long said.
Fans of every age filled the parade all sharing the same gleaming smiles and excited for a championship title the Nationals fought seven games to achieve.
"I am just happy for this team," Barbara Long said.