A month into a free opioid overdose distribution program, Washington D.C. pharmacies and churches are raving about how this pilot program is positively affecting high-risk communities.
According to a spokesperson for the D.C. Department of Health (DOH), "over 600 naloxone kits were distributed in the first month of the pilot."
That includes, for example, 24 kits distributed at the Second Baptist Church in a single night, plus at least five kits distributed daily from a local Walgreens.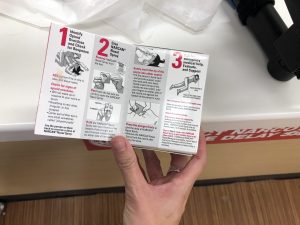 Naloxone, also commonly known as Narcan, is an antidote for opioid overdoses and serves as an aid in reversing overdose symptoms. 
Pharmacies and churches were armed with nearly 18,000 naloxone kits at the start of September in an effort to save the lives of those at risk of overdose. The project, primarily run by the Department of Behavioral Health (DBH), was funded by a 32-million-dollar State Opioid Response grant. Across all eight Wards, there were 17 pharmacies selected to participate in the naloxone pilot program.
According to the pharmacy manager at the Shaw Walgreens, patients are now able to walk into the pharmacy and pick up unlimited naloxone kits, with no identification required. Previously, patients were required to provide proof of insurance. 
This change is significant for neighborhoods like Shaw which is home to many African-American men. According to a report by the Chief Medical Examiner, opioid-related overdoses have historically been more common among African-American men in the District, particularly within Ward 6 where Shaw is located.
Pharmacies are not the only place that D.C. residents can access free naloxone. The DBH also administered naloxone kits to faith-based organizations, in an effort to reach communities who emphasize spiritual healing.
"Churches are healers, they're spirit-filled," said Dr. Dorothy Payne Bryan, the program director for a naloxone distribution event held at Second Baptist Church. "African American churches have always been at the forefront of healing the community."
Bryan said that nearly 40 community members attended the event and all 24 of their naloxone kits were distributed.
The free naloxone service is a core tenet of Live. Long. DC., a strategic plan that Mayor Muriel Bowser and DBH implemented in response to the opioid epidemic that persists in the District.
According to the National Institute on Drug Abuse, in 2017 there were 244 overdose deaths related to opioids in D.C., which ranked as the third highest overdose rate in the country.
So far, have been 44 reported deaths in 2019.
After receiving widespread criticism on the lack of urgency that Bowser's administration has placed on the opioid epidemic, Live. Long. DC is the most recent, ongoing attempt at targeting the entire D.C. community. The August 2019 Live. Long. DC progress report states that D.C. Health "plans to distribute nearly 32,000 [naloxone kits] to pharmacies."
"What the evidence shows is that the more people that can get access to naloxone, the better chance you have of kind of blanketing an area and making sure that the people most at risk, get help," said Regina LaBelle, the Program Director of the Addiction and Public Policy Initiative at the O'Neill Institute of Georgetown Law. 
LaBelle said that it may not necessarily be patients that walk into pharmacies and request naloxone. Parents are also highly likely to request naloxone from pharmacies when their child is at risk of an overdose.
The Live. Long. DC. plan has an ambitious goal of slashing opioid-related deaths by 50% by 2020. A Freedom of Information Act request was submitted by The Wash for access to a more detailed report on the pilot program, however the DOH has not yet fulfilled this request.