Developers in the Shaw neighborhood continue construction at a historic building that will house the new African American Civil War Memorial Museum. 
Built in 1887, Grimke Elementary School once operated as a school but was later used for the DC Department of Corrections and the DC Fire and EMS. 
On Sept. 9, Community Three Development Team began the demo phase, which is scheduled to be done by the end of the year. 
The 9½ St. Initiative Project will redevelop Grimke School into office space and more. 
"The program will consist of new offices and cultural uses, the African American Civil War museum new space and residential uses as well," said Mwangi Gathinji, the vice president of development at Community Three.
The 13,000 square foot space at the bottom of the new building will hold the museum, which will separate into four exhibit spaces. 
The four exhibits will focus on the Civil Rights Movement, the voting legacy of the U.S. Colored Trips, First Lady Michelle Obama's Civil War ancestors and the causes and consequences of the Civil War.
Since the museum is expanding, they do plan to bring in more historical pieces.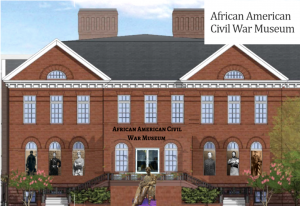 "The museum will display voting booths from the Civil War, Civil War-era school books and multiple interactives throughout the new space including a searchable database for Civil War records," said Edwin Gasaway, the Operations Manager at the African American Civil War Memorial Museum. 
The project will consist of three total buildings: the Grimke School site building, the current annex building, which will be converted into work and living spaces, and a new residential building that will be six-stories consisting of 40 housing units and 12 of those affordable units at the rear site off the alley of 9 ½ St. NW, according to Gathinji.
Director and Curator of the American University Museum at the Katzen Arts Center John Rasmussen said that this move will bring the museum more visibility.
"Obviously it hasn't been very visible before because I have never heard of it and I am surprised I have never heard of it, "Rasmussen said. "This is a great subject and I am glad they are doing a lot more work around the Civil War."
Residents will be able to see the remodeled Grimke School Building in October 2020. The entire project will be completely finished in October 2021.