The words "transcript," "whistleblower" and "though" sparked debate this week among journalists, politicians and officials on how to discuss the impeachment inquiry into President Donald Trump.
A report of the Trump call with President Volodymyr Zelensky of Ukraine was released last week, revealing that Trump asked Zelensky to investigate political rivals.
News organizations varied on whether to refer to the call as a transcript or a rough transcript, since it is not a verbatim script of the call but notes from White House aides and other officials listening in.
CNN referred to the unclassified report of the Trump-Zelensky call as a "transcript" in early breaking news stories. Other major media outlets like The Washington Post, NPR and PBS refer to the released documents as a "rough transcript."
Brian Westley, the senior counsel of Standards & Practices at PBS, said it is important to be careful with language. Most people think the word "transcript" means "verbatim," when this document wasn't, Westley said.
Gregg Re, a lawyer and editor for Fox News, includes a disclaimer in his digital coverage of the Trump-Zelensky call that the transcript is compiled by people listening into the call and writing down notes.
While he provides context of how the transcript came to be, Re also said in a phone call the word transcript "does not imply that it is flawless," and "does not imply word-for-word accuracy."
"I need you to do us a favor, though…"
Emily Horne, a communications expert and adjunct professor in the School of Communication at American University, told The Wash that it is "telling that in a moment where there is breaking news, people are quibbling over the meaning of individual words." 
For example, House Minority Leader Kevin McCarthy accused CBS reporter Scott Pelley of adding the word "though" to a sentence spoken by Trump in his call with Zelensky: "I would like you to do us a favor, though …;" referring to Trump's request that Zelensky investigate presidential candidate Joe Biden and his son Hunter.  But Pelley cited the sentence directly from the "transcript," or unclassified memorandum.
McCarthy went on 60 Minutes on Sunday to give a Republican response to the largely Democrat-led impeachment inquiry.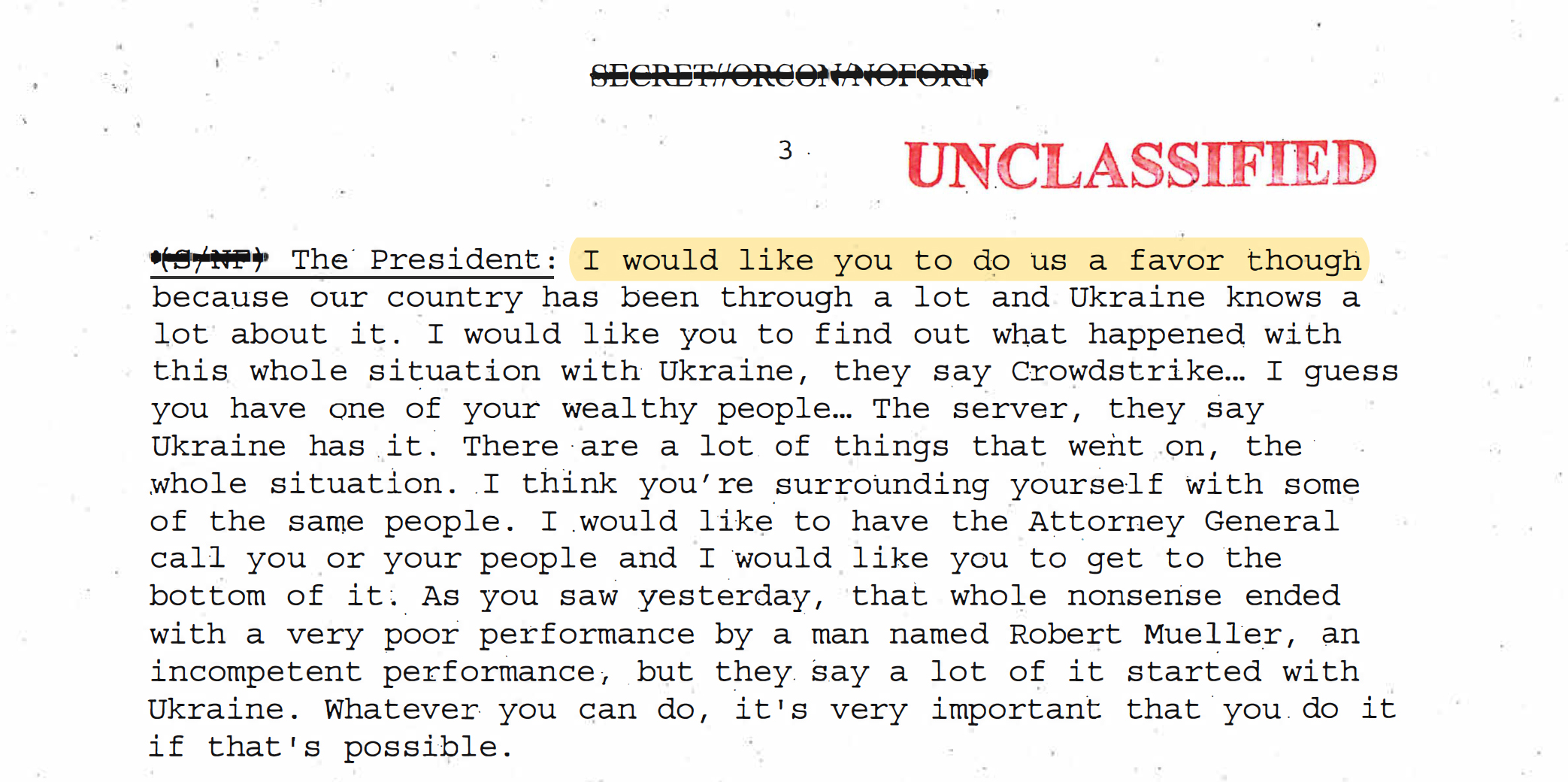 Word parsing by politicians
Claims of attacking the messenger and changing the subject is a common defense in political communications, Horne said. This goes beyond journalists and word usage to politicians.
Trump's personal lawyer, Rudy Giuliani, appeared on Fox News on Sunday. When anchor Maria Bartiromo asked him what he will do about the impeachment inquiry Giuliani deflected the question by saying he was just "the messenger" and that most people don't understand the process.
Giuliani also noted that attention should be on Biden's son rather than on Trump.
These diversion tactics are not unprecedented, Horne said. Former President Bill Clinton said during his own impeachment testimony, in response to a question on whether he had been truthful in affirming that "there is absolutely no sex of any kind" with White House intern Monica Lewinsky, "it depends on the meaning of what the word 'is' is."
Parsing individual words can be a "sign that the messenger is not confident in their broader message," Horne said.
Journalists' job 'to be careful'
Mark Memmott, NPR's supervising senior editor for Standards & Practices, said that "many things are familiar" from covering the Clinton impeachment inquiry. However, the people at the center of this story, like Trump, have new ways to get their own information out on social media, Memmott said.
Journalists are "working harder to keep up with what is happening, because it is part of our job to be careful," he said.
That means the deputy managing editor at NPR sends guidelines to everyone working on impeachment inquiry stories, to make sure all of the reporters are on the same page, according to Memmott.
These days, most people get their news from places that tell them what they want to hear, but "we give them the facts as they are," Memmott said.
But the public may not see it the same way.
District of Columbia resident Kathleen McMough said she doesn't follow news on the impeachment, because news stations are too biased one way or the other.
"People don't read enough into the news and don't take it all with a grain of salt," McMough said. While she tries to keep an open mind, she sees media outlets as framing the story based on their political leanings, instead of a report of truth, she said.
For LaRaine DuPuy, a Waco, Texas, resident, language and wording on the Trump impeachment inquiry is more important than the Clinton impeachment. 
"Clinton's impeachment was over a personal affair, but Trump's offenses are a threat to our national security, since he was working with foreign affairs," DuPuy told The Wash today.
The word 'whistleblower'
An individual word can add legitimacy to a news story, or take it away, Horne said. The amount of legitimacy that journalists give the impeachment inquiry will shape the American people's interpretation of what is happening, Horne said.
Sen. Bill Cassidy, R-La., said last week that the whistleblower on the call between Trump and Zelensky is not a whistleblower, according to VICE news. The following day, Trump tweeted that the whistleblower "isn't a whistleblower at all," because the person was not on the call with Zelensky.
Trump tweeted on Sunday that he deserves to meet his "accuser."  By using the word "accuser" instead of the word "whistleblower," it changes the framing of the call with the Ukraine president from a "reasonable thing" to a "conspiracy theory," Horne said.
Re of Fox News said that the term whistleblower accurately captures the situation.
"The term 'whistleblower' doesn't imply that the allegations are true, but it carries legal meaning," such as protection for the person, Re said. The legal process behind the term carries more weight than how politicians want to frame the story around the impeachment, he said.
Complicated, but important
Daniela Altimari, a politics reporter for the Hartford Courant, said Trump is an "extremely polarizing figure," with a big presence in political and cultural life. 
"Despite the complexity of the story, people are following it, are interested, and have an opinion, even if they don't understand all of the complexities," she told The Wash today.
Altimari can't foresee this story disappearing from the front page anytime soon, she said.
Emily Horne teaches the U.S. Foreign Policy in the Press course at American University, in which the author of the article is currently enrolled.